All Surface Vehicles and GPS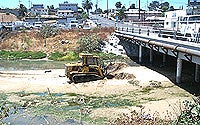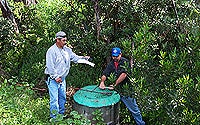 Concerned over environmental impacts on the canyons during cleaning and maintenance, the Wastewater Branch followed the recommendations of the City's former Canyon Sewer Access Maintenance Task Force and purchased several dozen canyon friendly pieces of equipment. These All Surface Vehicles (ASVs) are specifically designed by size and weight to minimize any impact on the environment.
The Department also uses a hand-held Global Positioning System (GPS) device as part of its efforts to further reduce the risk of sewer spills in canyons. The device, known as a Mobile Data Unit or MDU, can confirm canyon manhole locations by GPS, provide a detail work order for inspection and repair, confirm that a work order has been completed, and maintain a permanent site record.