El Capitan Reservoir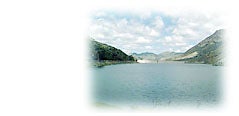 The El Capitan Reservoir was created in 1935 with the completion of the El Capitan Dam. That same year the reservoir was connected to the City's water system via the El Capitan Pipeline. Located approximately 30 miles northeast of downtown San Diego, on the San Diego River, El Capitan had the largest capacity in the City reservoir system until the San Vicente Dam Raise Project was completed in 2015. When full, the reservoir has 1,562 surface acres, a maximum water depth of 197 feet, and 22 miles of shoreline. El Capitan Reservoir has a water storage capacity of 112,806.9-acre feet. Water levels are monitored weekly.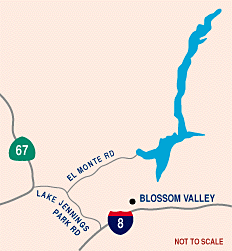 All persons (ages 8 or older) entering reservoir property will be charged daily use fees. The recreation area has three barbecues and eight picnic tables. Patrons can bring self-contained gas barbecues for use in the picnic area only. No ground fires or glass containers are allowed. Dogs must be kept on a leash at all times and at least 50 feet away from the water. Dogs are not allowed on any boats. There is no camping allowed at El Capitan.
Concession
Please see "What's New - El Capitan" for current days and hours of operation. When open, they rent boats on a first come basis on all open days with no reservations. They do not currently sell California State fishing licenses.
There is bait available - shiners, crawdads, night crawlers, mealworms and wax worms. Patrons can use credit cards for boat rentals and other purchases. Permits are cash only.
Fishing
Please see "What's New - El Capitan" for current days and hours of operation. At times when the concession is closed, patrons can purchase permits from the electronic pay station or the iron ranger box (envelope system) at the lake.
The reservoir was originally stocked with Florida-strain largemouth bass, crappie, bluegill, channel catfish, blue catfish, green sunfish, and carp. Minimum size limit for bass is 15 inches and 10 inches for crappie. Effective March 1, 2015, the length for bass is 12 inches. Fish limits are five bass, five catfish, 25 crappie and bluegill in aggregate, with no limit on other species.
There is an electronic pay station and an iron ranger pay station where patrons can purchase permits in addition to the concession.
Anglers 16 years of age or older must have a California state fishing license. Fish catch information is updated weekly.
Water Craft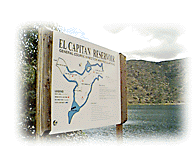 In addition to fishing from boats, patrons can use float tubes, waders or simply fish from shore. There are only about 4 miles of shoreline that are reasonably accessible by foot. Use of float tubes is restricted to within 100 feet or less from shore. Float tubers must wear chest waders and have a Coast Guard approved personal flotation device readily available at all times and have 144 square inches of international orange visible at least 12 inches above the water line. They must also possess a horn or whistle to warn approaching craft. Any float tube that uses oars or has a motor must purchase a private boat use permit.
El Capitan allows waterskiing, wakeboarding and use of personal watercraft, such as jet skis. Stand-up paddleboards are currently not permitted. Use of personal watercraft is only permitted in the personal watercraft zone next to the dam except when towing someone. El Capitan allows three-person personal watercraft (jet skis) to tow skiers or inflatables in the waterski zone.
Directions
From Interstate 8, take the Lake Jennings Park Road exit north, turn right on El Monte Road, and travel approximately 8 miles to the reservoir entrance.
More Information
For additional information, call the recording at 619-465-3474, contact the City's Reservoirs and Recreation Program office at 619-668-2050 or email [email protected]