Vivian Moreno, Community Representative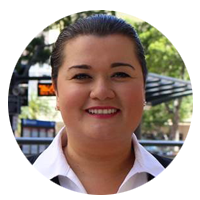 Prior to joining the Eighth Council District, Vivian worked as a Buyer in the Metal Industry. A native San Diegan, Vivian is also a devoted member of the community, giving her spare time to various non-profits, including volunteering as an Assistant Director for Hermanitas, a mentorship program of MANA de San Diego. She was awarded 2009 MANA Member of the Year.
Vivian earned her Bachelor of Arts in Political Science, with a concentration in International Relations, from the University of California at San Diego.
Vivian Moreno is David's community representative for Otay Mesa East and also oversees Binational Affairs and Spanish Media.
Vivian can be reached via email at [email protected].
Communities