Battery Recycling
All types of batteries are considered hazardous waste. Batteries may contain heavy metals including cadmium, lead, mercury, nickel, silver and zinc. According to state law, batteries and other types of universal waste are no longer accepted at Miramar Landfill or any other solid waste landfill.
Where Can I Recycle Alkaline Batteries?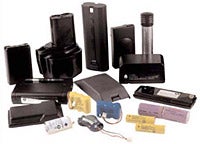 Alkaline batteries (AA, AAA, C, D and 9 volt) contain corrosive chemicals and heavy metals. As of February 9, 2006, batteries are banned from landfill disposal. The City of San Diego is working with private companies to increase the number of local recycling opportunities. Currently batteries can be recycled at these locations:
Where Can I Recycle Rechargeable Batteries?
Rechargeable batteries such as nickel cadmium (NiCd), lithium ion (Li-ion) and small sealed lead (Pb, weighing less than 2 pounds) are used in a wide variety of products including cell phones, cordless phones, cameras, electronic devices, razors, remote controls, and cordless power tools.

California Law (AB1125) requires most retailers that sell rechargeable batteries to accept and recycle these consumer batteries. Check with your local retailers or visit the Call2Recycle to find a location.
The Household Hazardous Waste Transfer Facility (HHWTF) accepts rechargeable batteries.
Where Can I Recycle Vehicle Batteries?
Automotive, golf cart, marine, and other vehicle batteries are not universal waste, however, they are banned from landfill disposal. Used vehicle batteries are regulated under different regulations. Most retailers that sell vehicle batteries will accept the used battery for recycling at no charge. Generally, the price of the new battery is reduced when a used battery is turned in. Ask the retailer before you purchase a new battery or look in the yellow pages under "Batteries-Storage-Retail." The City accepts vehicle batteries at Auto Product Recycling Events or the Household Hazardous Waste Transfer Facility (HHWTF).
Battery Storage
Store used batteries sorted by type (alkaline, lithium, nickel cadmium, ect.) in a safe, dry place and out of the reach of children. Use zip lock bags or a plastic container with a lid. For an extra measure of safety, place masking tape or nonconductive tape over the battery terminals (battery ends). If a battery is damaged or leaking, immediately place the leaking battery into a plastic or zip lock bag and isolate from other batteries. Wear nitrile gloves when handling damaged batteries and wash your hands.
Household Hazardous Waste Transfer Facility
The Household Hazardous Waste Transfer Facility (HHWTF) accepts all types of consumer batteries, rechargeable batteries, and vehicle batteries. The HHWTF is open Saturdays by appointment only. For more information or to schedule an appointment contact Environmental Services Department at (858) 694-7000.
***Avoid a time consuming trip to the HHWTF just to recycle batteries. Store used batteries for up to one year or 5 pounds allowing time to accumulate all household hazardous waste to be dropped off at the same time.