Curbside Recycling

What Goes Where? Recycling Flyer - Now accepting clean Styrofoam food and drink containers.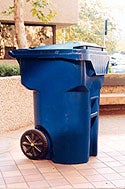 Curbside recycling and curbside yard waste recycling are two of the Department's most popular services. On November 17, 2001, the expansion of curbside recycling was completed citywide. Environmental Services plans to expand greenery collection where yard waste generation and participation rates make it economically efficient to operate the service.
Trash, Recycling and Yard Waste Collection Schedules for Your Address
Curbside Recycling Collection
The City of San Diego operates a commingled, automated curbside recycling program that currently serves 276,000 residents with every-other week collection service.
This automated collection recycling program facilitates convenient, safe, and cost-effective recycling and helps to discourage scavenging of valuable recyclables.
 
Residents not able to participate in curbside recycling, please see recycling tips in Recycling in Your Community.
The blue recycling containers are available in two sizes, 96- and 64-gallons.
For more information, call Customer Service at 858-694-7000.
Set the automated container in the street or alley, wheels against the curb, with the handle facing your home, by 6 a.m. on collection day.
 
Make sure your container is at least three feet from other containers, parked cars, lamp posts, trees, mailbox posts and any other obstructions so the collection truck can access your container. Please remove your container by 6 p.m. on collection day.
Please review the above lists of what can be recycled and what can't be recycled, carefully and do not place any trash in the recycling containers.
 
Do not take containers with you if you move. They are the property of the City of San Diego and are numerically registered to the address to which they are originally delivered. Residents should record container numbers in case of theft.
 
If you have additional questions, please call Environmental Services at 858-694-7000.