Green Business Network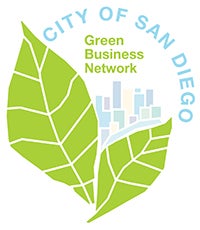 Reduce energy consumption, water use and minimize waste to increase profits.
Look who's already joined:

Green Business Network Members
About
The City of San Diego is committed to reducing energy consumption, conserving water and minimizing waste.
By joining the Network, the Green Business Network team becomes your business Green Team. Let us help you improve your operations by providing assistance in energy conservation, water and waste reduction, and recycling hazardous materials such as fluorescent bulbs, batteries and paint products.
Studies show that businesses using sustainable practices save costs. Let us help you save costs and save San Diego's environment.
This program is funded by California utility rate payers under the auspices of the California Public Utilities Commission and through a Partnership between the City of San Diego and San Diego Gas and Electric.
Join
Becoming a certified

Green Business Network member is simple! Follow this four-step process and take advantage of the many incentives available to help your business achieve your goal:
Pledge to the reduction of energy use at your workplace, and provide a baseline of current energy usage.
Pledge to the conservation of water at your workplace, and provide a baseline of current water consumption.
Pledge to purchase sustainable products and recycle waste.
Incentives