San Diego Tests New 'Fire Boss' Air Tanker to Combat Wildfires
Single Engine Air Tanker Will Fight Local Wildfires This Summer at No Cost to Taxpayers, Can Carry Up to 800 Gallons of Water and Fly for Three Straight Hours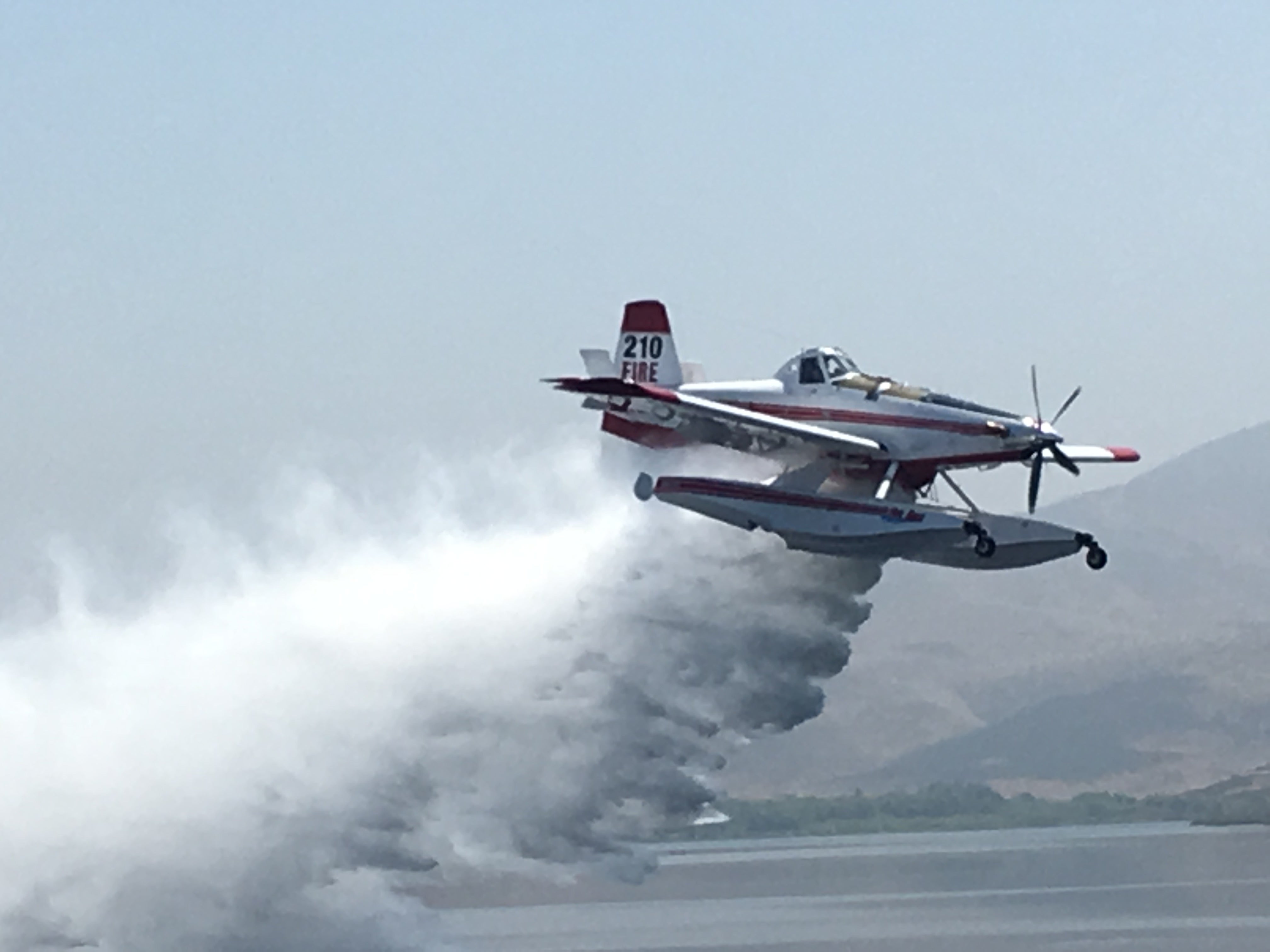 Thursday, June 22, 2017 - NEWS RELEASE
San Diego – Standing next to the Lower Otay Lake Reservoir, Mayor Kevin L. Faulconer and Fire-Rescue Chief Brian Fennessy today announced a new private-public partnership that will bolster San Diego's firefighting resources by testing a Single Engine Air Tanker – known as the Fire Boss – for fire suppression in the county this summer.
Aero Spray, operator of the Fire Boss, will provide the aircraft free of charge through July. 
"We all know that the fire season is year-round here in San Diego which is why we are looking at new tools to bolster our firefighting forces," Mayor Faulconer said. "Through this public-private partnership, we will test new ways to efficiently and effectively protect San Diego from the threat of wildfires."
San Diego's topography coupled with the amount of dead and dying brush and other fuels that currently exist in local canyons and open spaces make this aircraft an ideal fit for fighting fires in San Diego. A combined ground-air attack is the most effective method to successfully stop a wildland fire.
"This aircraft is a valuable tool for us to test here in San Diego," said Fire-Rescue Chief Brian Fennessy. "The capabilities of the Fire Boss are a good match for the terrain of our wildland urban interface and, while these areas are beautiful, they are hazardous when it comes to fire potential."
The Fire Boss is an amphibious, fixed-wing aircraft that can carry up to 800 gallons of water. It has a three-hour fuel endurance limit and the capability of taking off and landing on a body of water. The Fire Boss scoops water from a lake and quickly returns to the fire for a water drop. It can scoop up an average load of 650 gallons in 20 seconds from a lake, reservoir, river, or bay that is close to a fire. If required, the Fire Boss can remain on scene for more than three hours continuously scooping and dropping water.
The Fire Boss is equipped with a 1600-horsepower turbine engine, and computer-controlled scooping and drop systems that control how water is loaded and dropped from the aircraft. Fully concentrated loads are best for punching through tree canopies or hitting a spot fire. Long string drops are used to knock down grass and brush fires. Fire Bosses come equipped with thermal imaging units used to target hot spots and increase drop accuracy. 
While Fire Bosses have proven their fire suppression capabilities in the United States and Canada, they have not often been used south of Los Angeles. The San Diego region will serve as a testing ground for the use of this type of air tanker in fire suppression efforts in Southern California.