San Diego Fire-Rescue Department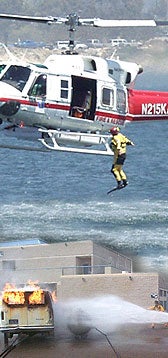 The San Diego Fire-Rescue Department protects the life and property of San Diego residents and visitors. The Department is responsible for populated and open space areas amounting to approximately 331 square miles.
Through numerous facilities located across the City, the Department fulfills its mission of protecting life and property through fire suppression, rescue, arson investigation, explosives disarmament, emergency medical care, lifeguard services, disaster preparedness, fire prevention, and community education.
Fire-Rescue personnel and equipment are committed to response readiness as fully as required every hour of each day year after year. In meeting this unrelenting level of demand, the Department depends upon the availability of modern equipment, adequate inventory of maintenance and replacement materials and on-going training resources.
The relationship between unqualified readiness and resource-support systems is fundamental and dynamic. Managing it is an unceasing challenge to the Department. Charitable partnerships between understanding and caring community members with the Fire-Rescue Department are creative and visionary means for helping it to meet this challenge, strengthening its capabilities to fulfill its mission.
Charitable Partnering Opportunities
Emergency Mobile Fire Command Center: $1,000,000
Mobile, Two-Way Emergency Communication Devices: $5,000,000 (400 devices)
Wildland and Urban Fire Fighting Vehicle: $750,000
Thermal Imaging Cameras: $240,000 (20 cameras)
Lifeguard Emergency Rescue Watercraft: $720,000 (six watercraft)