Metro Commission / Metro Wastewater Joint Powers Authority (JPA)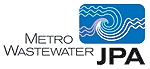 Along with providing wastewater collection services within the City of San Diego, the Public Utilities Department treats the wastewater from 12 other cities and sanitation districts, whose influent accounts for 32 percent of the wastewater flow generated. The Metro Commission is composed of Representatives from each of the participating agencies and serves as an advisory body to the San Diego City Council on the operation of the Metropolitan Sewerage System.
In 1998, the City signed an agreement with these participating agencies wherein these agencies would pay their full share of costs for wastewater treatment and disposal for the next 50 years. The participating agencies are the cities of Chula Vista, Coronado, Del Mar, El Cajon, Imperial Beach, La Mesa, National City and Poway; the Lemon Grove Sanitation District; the Otay Water District; the Padre Dam Municipal Water District; and the County of San Diego (including Lakeside/Alpine Sanitation District, Spring Valley Sanitation District, Winter Gardens Sewer Maintenance District, and East Otay Sewer Maintenance District).