Water Leaks and Emergencies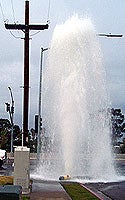 Call the 24-hour telephone hotline at (619) 515-3525 to report water emergencies such as water main breaks, service leaks, valve leaks, hydrant knockovers, highline leaks, pressure problems, etc. Dispatchers will send Water Operations crews to investigate and/or fix problems.
Water is a precious commodity to us and we do our best to conserve it. However, every water system in the nation experiences water loss. According to the American Water Works Association, the average water agency experiences an annual water loss of 8-12% of its total demand. The City of San Diego experiences an annual water loss of 3-6% of our total demand. Water loss is often caused by leaks from service lines, main breaks, water used for fire fighting, and fire hydrants knocked over by a vehicle.
How You Can Help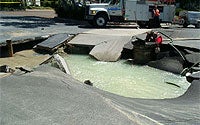 Citizens can play an important role in protecting our water and maintaining our water system. We count on you to help us proactively identify and report all types of leaks or other problems on the City water system. We also rely on your cooperation, patience and understanding when it comes to repairing a water disruption as quickly as possible.
A Guide to Water Emergencies: Video and Brochure
Learn more about the process to respond to a water emergency and how to investigate smaller leaks.
Water Emergency Video   Find out what to do when a water emergency happens in your neighborhood.
We strive to investigate each call within two working days and aim to repair reported city-side valve leaks, small meter leaks and distribution service leaks within seven working days. Please keep in mind that the repair timeline will be dependent upon the nature and severity of the leak, and other City water emergencies.
Thank you for your patience and cooperation as we work to provide you a safe and reliable water supply.