Environmental Programs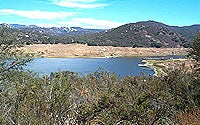 Sutherland Reservoir
As part of our environmental commitment, the Public Utilities Department continually protects our watersheds and water quality. Learn more about what is being done in the San Dieguito watershed and what you can do to help keep our drinking water clean and safe.
The City is committed to environmental stewardship. Our commitment is reflected in our various efforts, such as:
Protecting our drinking water sources
Protecting valuable natural habitats
Managing our water resources
Educating the community and stakeholders on water quality and environmental protection
Conducting our business in ways that support environmental sustainability
We are committed to continually improving the Public Utilities Department's work processes and practices to manage and minimize adverse effects on San Diego's rural, urban, and coastal environments.