ISO 14001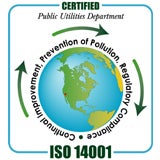 ISO 14001 is a certified environmental management system, merging service improvement with environmental responsibility, and utilized by the Public Utilities Department?s Water System Operations and Water Construction & Maintenance divisions. When the ISO 14001 certification was originally earned in May 2005, it was the first time a public utility in the nation had integrated the Bid-to-Goal management tool with ISO 14001.
ISO 14001 is an international standard that involves a set of policies and procedures to manage environmental issues as part of our work and the services we provide. The Certificate of Conformance has been renewed in 2008 and in 2011.
In May 2011, the two divisions proved their environmental performance by passing the audit of their Environmental Management System. Two auditors from the registrar logged 80 work hours, during which 10 facilities were visited and 38 employees interviewed. Throughout the audit all the staff members were keenly aware of how to comply with environmental regulations and how we minimize our impact to the environment.
Keeping up an environmental management system in accordance with the ISO 14001 standard is a challenging achievement. Management, employees and our stakeholders are entitled to be proud of this success.
The Water System Operations and Water Construction & Maintenance divisions have an Environmental Policy signed by management which describes our commitment to:
Continually improve our work processes and practices to manage and minimize adverse impacts to San Diego?s environment.
Comply with applicable legal and regulatory requirements, as well as, other water industry standards to which we subscribe.
Prevent pollution, minimize waste and impacts to our natural resources
Communicate our efforts to protect public health and safety
Develop work practices to support environmental sustainability