Quagga Mussels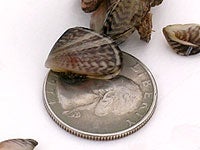 Quagga mussels, which are related to the notorious zebra mussels that have overrun the Great Lakes and Mississippi River watershed, were found in San Vicente Reservoir on Aug. 13, 2007. The mussels have since been found in other City reservoirs.
Spread by aqueducts, commercial ships and recreational boats, the mussels can multiply rapidly, clog pipes and pumping machinery, and negatively impact or alter the ecosystem of lakes and reservoirs. Quagga mussels can dramatically change the food chain in lakes and reservoirs, leading to reduced sport fish populations. Importantly, once the ecosystem is altered, the growth of algae can occur and affect the taste and odor of a region's drinking water. In addition, because the mussels are often spread by boats, attempts to stop the spread of the mussels could affect recreational use of the City's reservoirs.
The Public Utilities Department is working with state and regional agencies on a comprehensive program to detect and control quagga mussels.
How You Can Help
The larval stage of quagga mussels, called veligers, float freely in water and are so small they cannot be seen by the human eye. People who use personal boats on City reservoirs are asked to help avoid the spread of quagga mussels and the potential closure of the reservoirs by doing the following:
Drain all water from your vessel before leaving the reservoir parking lot

Drain any water through the vessel's hull plug.
Drain and dry live-wells.
Drain ballast tanks.
Empty and dry any buckets.

Any vessel traveling from one freshwater body to another should be thoroughly dry, inside and out. It is best for boats to remain dry and out of the water for at least five days before going to another water body.
Links
More information about quagga mussels can be found on the following web sites: