Overview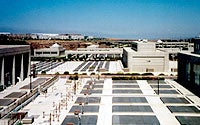 Recycled water (also referred to as reclaimed water) is approved for many uses. Careful monitoring by state health officials and water quality-control agencies ensures that recycled water produced by the City of San Diego meets all federal, state and local water quality standards.
According to the standards outlined in Title 22 of the California Code of Regulations, recycled water is safe for human contact. For more than 50 years, recycled water has been safely used throughout the country in recreational lakes, sprinkler systems for homes and businesses, food crop irrigation and manufacturing processes.
The Northern Service Area recycled water distribution facilities include two recycled water storage tanks, two pump stations, and 83 miles of pipeline. These facilities extend from the coast to Poway.
The City provides recycled water to more than 500 meters, including a single service connection with the City of Poway by which Poway subsequently serves its customers. The City also provides a wholesale supply of recycled water to the Olivenhain Water District. While most customers use recycled water for landscape irrigation customers located in the City of San Diego also use it for commercial cooling towers and industrial processes.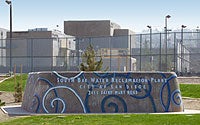 The distribution system in the Southern Service Area consists of a pipeline in Dairy Mart Road which provides recycled water wholesale to the Otay Water District. Subsequently, the Otay Water District delivers recycled water to its customers located in their service area for irrigation. The system also serves recycled water to the adjacent International Boundary and Water Commission Wastewater Treatment Plant to use for industrial processes.
With further advanced treatment, recycled water has been approved as an addition to existing water supplies in underground basins, and open reservoirs. This process is called groundwater recharge or reservoir augmentation and is occurring in other parts of California and the United States, but it is not occurring in San Diego at this time.
If you are interested in learning more about recycled water, please email us at [email protected].