Unmanned Aircraft Systems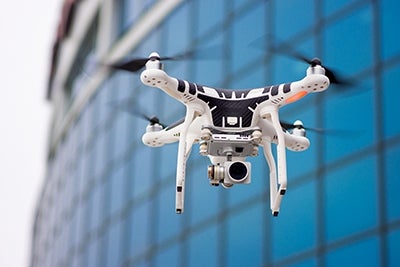 The City of San Diego has developed an Unmanned Aircraft Systems (drone) policy that allows for local law enforcement action in serious cases of infractions, while still allowing for the use of drones for infrastructure inspections, photography, and general recreation. The information here is intended as a basic overview of the City's drone ordinance, as well as valuable resources for drone users.
San Diego Selected for FAA UAS Integration Pilot Program
The City of San Diego has been chosen to participate in The Unmanned Aircraft System (UAS) Integration Pilot Program (IPP) from the Federal Aviation Administration (FAA) and the U.S. Department of Transportation (USDOT). The IPP is an opportunity for state, local, and tribal governments to partner with private sector entities to accelerate safe UAS integration and innovation both regionally and nationally.
https://www.faa.gov/uas/programs_partnerships/uas_integration_pilot_program/
City of San Diego media release for IPP: 
https://www.sandiego.gov/mayor/news/releases/us-transportation-department-selects-san-diego-national-unmanned-aircraft-system-testing
For UAS inquiries, email [email protected]
For media inquiries, email [email protected] or call 619-533-4555
 
Fly for Fun
Fly for Work
Pilot Requirements
No pilot license required
Must have Remote Pilot Airman Certificate
Must be at least 16 years old
Must pass TSA vetting
Aircraft Requirements

Must be registered as a small UAS if it weighs between 0.55 pounds and 55 pounds

UAS larger than 55 pounds have a different FAA requirements

Must be registered if over 0.55 pounds and less than 55 pounds

Must undergo pre-flight check to ensure UAS is in condition for safe operation

Location Requirements
Five miles from airports without prior notification to airport and air traffic control
Glass G airspace*
Operating Rules

Must ALWAYS yield right-of-way to manned aircraft
Must keep the aircraft in sight (visual line-of-sight)
UAS must be under 55 pounds
Must follow community-based safety guidelines
Must notify airport and air traffic control tower before flying within five miles of an airport

Must keep the aircraft in sight (visual line-of-sight)*
Must fly under 400 ft*
Must fly during the day*
Must fly at or below 100mph*
Must yield the right of way to manned aircraft*
Must NOT fly over people*
Must NOT fly from a moving vehicle*

Example Applications
Educational or recreational flying only
Flying for commercial use (e.g. providing aerial surveying or photography services)
Flying incidental to a business (e.g. doing roof inspections or real estate photography)
*These rules are subject to FAA waiver. Source https://www.faa.gov/uas/getting_started
For most up to date information on rules, regulations, and restrictions, visit https://www.faa.gov/uas/resources/uas_regulations_policy/

State and Local Regulation of Unmanned Aircraft Systems (UAS)
Links to FAA drone flight apps for IOS and Android:
IOS: https://itunes.apple.com/us/app/b4ufly/id992427109?mt=8                                                  
Android: https://play.google.com/store/apps/details?id=gov.faa.b4ufly2&hl=en_US