Current Class Schedule
Program Office: (619) 235-5255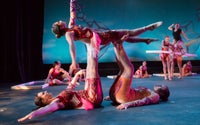 Summer Semester
June 24, 2017 at 10:00a.m.- Registration begins for all Civic Dance Arts Summer classes  . 
Summer classes  visible on SDRecConnect on May 19, 2017.
 New students should contact the dance office for assistance with enrollment: 619-235-5255. It is advisable to contact the dance office prior to registration on June 24th.

We have several classes that fill to capacity on the first day of registration. Registration is conducted on a first come/first served basis. Register early for best availability. When classes fill to capacity, waiting lists are formed. Please note that Canyonside Adv Int Tap & Jazz 4A and Hourglass Adv Int Ballet 4A will give priority to continuing students from Spring 2017 Semester (call the dance office for assistance in enrolling in these classes: 619-235-5255).

Visit civicdancearts.org for more information.
Dress Code
Leotard and tights or dance pants/shorts. No jeans allowed at any time. Hair tied back and out of the eyes. Appropriate shoes required. See instructor for more detailed information.
Cost and Class Information
$41.00 per semester (unless indicated otherwise). Effective September 8, 2015, service fees will apply as follows for all transactions. For Online Registrations, $2 Transaction fee and 3% Processing fee will be charged for every transaction. For In-house Registrations, $2 Transaction fee will be charged for every transaction. Rates are established by the service provider and are nonrefundable.
Low income fee waivers for class fees only are available to those who qualify. Please visit http://www.civicdancearts.org/scholarships.html for more detailed information.
Summer Classes: June 26 through September 3, 2017 (10 sessions).
Each class meets once a week for 45 minutes (unless indicated otherwise)
The classes listed are subject to cancellation when enrollment minimums are not met and based on budgetary constraints.
Dance instructors have final determination if their class levels are appropriate for the skills of the dancer enrolled. If the class is determined to not be a good fit, the student will be offered a transfer to another class or given a refund (see Refund Policy below).
All participants must meet age requirements.
Please be advised that parents will not be allowed in the dance room to watch classes as it is disruptive to the students dancing. Parents may watch the last 5 minutes of class only.
More complete information about our events and classes can be found on our website:  www.civicdancearts.org
Dance office: 619-235-5255 (Monday to Friday 9:00am to 4:00pm).
Payment Policy
Online Class registration requires a credit card payment.
Credit cards accepted are Visa, Mastercard and Discover. We are unable to accept debit cards without a Visa or Mastercard logo.
Payment will also be accepted at Citywide Recreation Centers and the War Memorial Bldg using a credit card, EXACT cash or a check payable to: City Treasurer. Please check with your local recreation center for their registration hours or dance office for War Memorial's registration hours.
All fees must be paid in full at the time of registration.
Registration conducted on a first come, first served basis.
A $25 fee will be charged for all returned checks.
Class fees are not prorated/discounted after the beginning of the scheduled session.
Financial assistance is available. Please contact the Dance Office for more information on how to apply: 619-235-5255.
Refund Policy
Refund request forms MUST be submitted PRIOR to the 2nd scheduled class meeting or two weeks PRIOR to the scheduled camp/workshop start date. . You can get the form (AC 1006) by contacting the dance office at 619-235-5255. Allow 6 to 8 weeks to receive your refund check in the mail. Please note that ActiveNet Transaction fees and Credit card fees are nonrefundable
If a class is cancelled, the Dance office will contact you to follow the same procedures outlined above for processing a refund.
No partial refunds or make-ups for missed classes (i.e. routine illness, vacation or other schedule conflict).
No Refunds on Costumes after January 3, 2017.
Inclusion Support Services
The City of San Diego Therapeutic Recreation Services may provide inclusion aides for individuals with disabilities who wish to participate in Civic Dance Arts classes. Requests for this service must be made at least three weeks prior to the first day of class. For more information on Inclusion Support Services, contact Julie Gregg, CTRS, Inclusion Coordinator at 619-525-8248 or send an email.
Online Registration Information
Civic Dance Arts' registration is now online! Summer class registration begins on Saturday, June 24th at 10am. Please Note that our Civic Dance Arts classes will not be visible on SDRecConnect until May 19th and that you will not be able to enroll in any of them until registration opens on Saturday, June 24th at 10:00 a.m.  New students should contact the dance office for more information on how to get evaluated and enrolled: 619-235-5255.
Log onto the SDRecConnect registration website here.
---
As a recipient of Federal funds, the City of San Diego cannot discriminate against anyone on the basis of race, color, creed, sex, age, national origin or ancestry, religion, pregnancy, physical or mental disability, veteran status, marital status, medical condition, gender (transsexual and transgender), sexual orientation, as well as any other category protected by Federal, State or local laws. If anyone believes he or she has been discriminated against, he or she may file a complaint alleging the discrimination with either the City of San Diego Park and Recreation Department (Contact the District Manager (619) 235-1106) or the Office of Equal Opportunity, U.S. Department of the Interior, Washington, D.C. 20240.