Diving Board Rules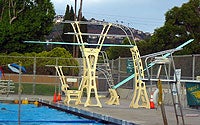 A swim test is required for all persons using the diving board.
Patrons must pass the swim test and be at least four (4) feet tall to use the 3 meter diving board - NO EXCEPTIONS.
Patrons wait their turn at the bottom of the ladder, taking care to not interfere with the divers.
One diver at a time is permitted on the board.
The diving board is the only entrance to the diving area in the pool.
Recreational divers must jump or dive using only one bounce. No running off the end of the board, handstands, sitting or back dives is permitted.
Only jumping or diving straight off the end of the board is permitted.
All divers must look before and wait until the area in the pool is clear before diving.
Immediately after diving, the diver surfaces and swims clear of the diving area.
All diving board equipment may be adjusted only by Aquatics personnel.
Any activities deemed unsafe by the Aquatics personnel are not permitted.
Only one diving board may be in operation at a time at one facility.