Gifts, Memorials, and Dedications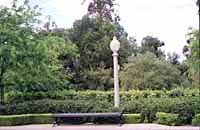 The Park and Recreation Department encourages community groups and individuals to donate "special features" which add to the interest and attractiveness of the parks, or are of service to patrons of the parks, such as benches, gardens, picnic amenities, etc.
A "special feature" may serve as recognition to an individual or group who made a significant contribution to a specific park or community; to commemorate a memorable occasion; or to acknowledge interest of a group or individual in a park.
For information on how you can make a donation, E-mail us at My Park.
Park System and Recreational Programs Donations
Find more information about making general or designated tax-deductible donations to the City's park system.