Tree Donation Program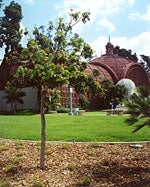 Give a Gift that Grows...
and Help Plant an Urban Forest!
I would like to give a gift that grows!
The San Diego Park and Recreation Department offers you the opportunity to give a special gift of a living tree as a memorial or acknowledgement of a special occasion. Your Tree Donation will greatly benefit the city Park and Recreation Department's Urban Reforestation Program.
Trees improve the environment with their beauty and grace. Trees also improve air quality by removing pollutants and producing oxygen for us to breathe.
Your generous contribution will not only enhance our community but commemorate a special occasion and show someone special how much you care. Contact us for more information about donating one tree, a special grove of trees or larger specimen trees.
Contributions are tax-deductible to the extent allowed by law.