Contacts
CONTACT US When You Need Our Help!
Parking is a decentralized, citywide function of the City of San Diego. Although parking related services, staff and resources cross many City organizational boundaries, efforts are closely coordinated to ensure the highest level of service is provided on parking issues and improvements.
Contact Information for the Parking Services You Need
City Parking Organization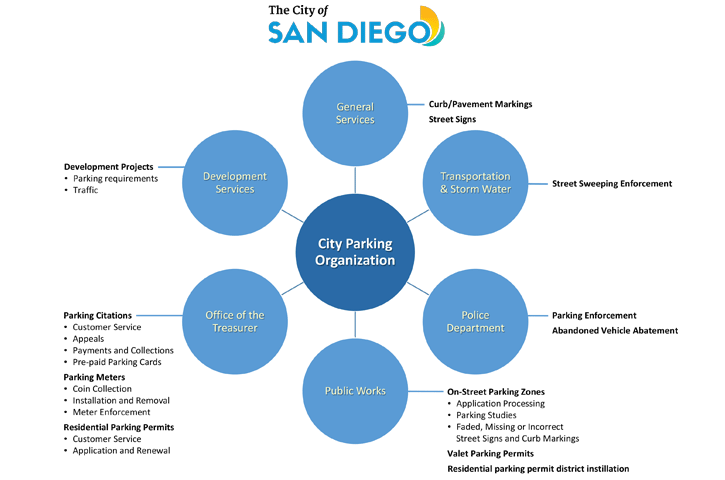 Department Listing for Key Parking Services
Revenue Collections Division
Parking Administration
Plaza Hall - 202 C St.
San Diego, CA 92101
Tel: 866-470-1308 (toll free)
 
Transportation Engineering Operations Division
1010 Second Ave., Suite 800
San Diego, CA 92101
Tel: 619-533-3126
Fax: 619-533-3131
Traffic Service Request Form
Traffic Division
Parking Enforcement
9265 Aero Drive
San Diego, CA 92123
858-495-7800
858-495-7996 (TTY)
Email: sdpdtraffic@pd.sandiego.gov
Development Services
1222 First Ave., MS 301
San Diego, CA 92101-4154
619-446-5000
Street Division
2781 Caminito Chollas
San Diego, CA 92105
Tel: 619-527-7500
Fax: 619-527-7534
Email: street_service@sandiego.gov
Street Division Service Request Form
Storm Water Division
9370 Chesapeake Drive, Suite 100
San Diego, CA 92123
619-235-1000
Email: swppp@sandiego.gov
For questions or concerns, see the Frequently Asked Questions, call 866-470-1308 (toll free).