Commission for Arts and Culture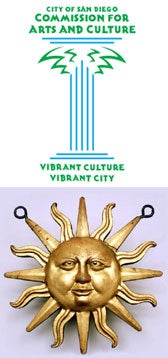 Our Mission
The City of San Diego Commission for Arts and Culture vitalizes the City by supporting the region's cultural assets, integrating arts and culture into community life and showcasing San Diego as an international tourist destination.
Charitable Partnering Opportunities
The Organizational Support Program provides general operating support to organizations whose missions strongly align with that of the Commission and may include the creation, preservation and presentation of arts and culture programming and /or support services. Funded organizations include many of the museums and cultural institutions in Balboa Park, theatre and dance companies, music, opera and a myriad of other arts and culture organizations of every size and discipline primarily operating within the City of San Diego.
Creative Communities San Diego (CCSD) supports projects that increase opportunities for San Diego residents and visitors to participate in arts and culture and to exercise their creative abilities. Eligible CCSD projects include, but are not limited to festivals, street fairs, parades, after-school arts and culture activities for youth, inter-generational programs and art in public places. Projects range from small, neighborhood-based activities primarily benefiting residents, to large, regionally significant attracting visitors from throughout California.
A visionary Program, this bold and expansive initiative expresses the Commission's mission in tangible form. It conceives of San Diego as a community with engaging public spaces, one in which public works of art celebrate our diversity and history while pointing us toward a future inspired by our aspirations for the community and where residents and visitors, alike, will encounter works of art that will surprise and delight.
Would you or your business like to help return the City's art collection, particularly the Aztec Brewery art and artifact collection to its original grandeur? The ADOPT-AN-ARTWORK program provides the financial support for the conservation treatment and maintenance for artworks in the City's collection. Adopters will assist in restoration efforts by underwriting the costs for conserving and maintaining the artworks. Many of the artworks, including the Aztec Brewery art and artifacts now display the ravages of time and the elements. To be returned to their original beauty, the artworks require conservation treatments by art conservation professionals. Please call Commission staff to discuss adoption opportunities.