Community Services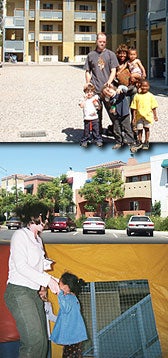 With an emphasis on core neighborhoods and low- and moderate-income residents, Community Services improves the quality of life and ensures a healthy economy for all San Diegans through its programs.
Charitable Partnering Opportunities
The first and only year-round transitional housing facility for homeless families in San Diego. The Center's proactive approach provides desperately needed services to cultivate self-sufficiency, help families transition to stable housing and reduce San Diego's homeless population.
Family living units (52) and children's learning areas:
$365,000 ($7,000 each unit)
Essential furnishings such as furniture, carpeting, bed linens, window coverings:
$250,000
Basic equipment which is vital for the Center to fulfill its responsibilities, including industrial capacity clothes washers and clothes dryers, kitchen appliances, chairs, tables, desks:
$75,000
A work training program that provides work readiness training and mentoring through year-round, paid employment for "at risk" youth between the ages of 14 and 18.
Scholarships to provide access for:
6 week summer training - 3 classes of 20 youths each:
$90,000 ($30,000 each class)
Year-long training - 5 classes of 5 youths each:
$175,000 ($35,000 each class)
"6 to 6" provides public elementary and middle school children in the City of San Diego with academic enrichment and recreational activities before and after normal school hours in the safety of community schools while their parents are at work.
Sponsorships:
Provides before school programs for youth:
$25,000 to $100,000 ($1,000 for each participating child)
Provides after school programs for youth:
$25,000 to $100,000 ($1,000 for each participating child)
Enables, extends access to and utilization of free computer work stations, free income tax assistance for elderly and low-income residents, free meeting rooms for local non-profit and community groups, free child immunization clinics, senior citizen forums, Saturday passport events.
$75,000
A unique program has been developed to enable approximately 1,000 US residents (adults and children) who regularly cross the US-Mexico border to overcome an insuperable financial challenge - the hgh, $75.00-$85.00 passport application processing fee - which prevents them from obtaining passports. The San Ysidro Service Center wishes to innovate this essential service which will have beneficial effects on tourism, local trade and commece.
$80,000