Equal Opportunity Contracting Charitable Partnering Opportunities
| | |
| --- | --- |
| | |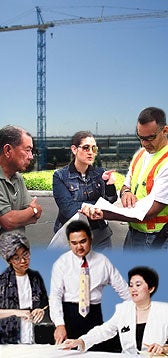 Equal Opportunity Contracting

Equal Opportunity Contracting is a leader and partner in public works contracting for the City of San Diego and the professional communities it serves by actively encouraging fair dissemination of public contracting dollars. Success in public contracting and honoring the public trust are promoted through education and an unwavering focus on the true value of equality. Honoring its commitment to the public's trust, Equal Opportunity Contracting fulfills its mandate by:

Enforcing public contracting regulations.
Administering Federal, State, and City equal opportunity laws.
Increasing the diversity of the contracting community through broad outreach efforts.
Providing mentorships and technical assistance to small and emerging contractors.

Contractor Assistance Program: $50,000
A core element in the City's effort to meaningfully assist small and emerging construction contractors, this Program provides qualified participants with business tools that are essential for their ability to effectively compete, such as: Accounting software, project management software, copies of the "Greenbook" Construction Standards Guide and tuition for workshops.

Architecture and Engineering Intern Scholarships: $75,000
Focused on aspiring architecture and engineering students, this initiative will launch a new program that provides stipends of $2,500 for summer internships at professional architecture and engineering firms in the San Diego area. Students participating in the San Diego Math Engineering Science Achievement Program, a mentoring consortium, will be invited to apply for the stipends and selection will be conducted by the Program's directors. A 2 year start-up is envisioned with stipends awarded to 15 students in each of the 2 years.