Environmental Services Department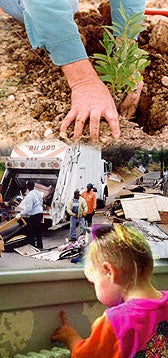 The City's Environmental Services Department is comprised of six unique divisions that are responsible for helping to protect the community's natural resources and promoting a healthy environment. The divisions include Collection Services, Energy Conservation and Management, Environmental Protection, Refuse Disposal, Resource Management and Waste Reduction and Enforcement.
Charitable Partnering Opportunities
Increasing the design and development of environmentally friendly buildings will conserve energy and other natural resources.
Citywide education and prevention outreach about lead poisoning and other environmental health hazards in our homes.
Expanding opportunities throughout the City for safely recycling electronics that contain hazardous materials.
Greater frequency of events to safely remove and dispose of large items that are not permitted to be deposited in City trash, recycling or yard waste containers.