Human Relations Commission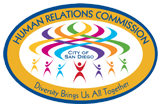 The mission of the Human Relations Commission is to promote activities which foster mutual respect and understanding, protect basic human and civil rights, and create an atmosphere that promotes peaceful and harmonious relations among all members of the San Diego community.
"PEACE-ING IT TOGETHER" Project
The Project is a comprehensive campaign designed to support and raise the level of dialogue and deliberation regarding social justice issues through forums, active collaborations, community dialogues and dissemination of educational diversity kits and materials and trainings.
Charitable Partnering Opportunities
Permanent kits containing materials addressing conflict resolution, anti-bias, violence prevention, diversity, immigration, disability and cultural/ethnic groups are the foundation for the Project. The kits will be placed in schools, public library reference sections and recreation centers, assisting teachers, after school personnel and recreation workers in developing appropriate activities and accurate information for children and teens around social justice issues.
Each kit will contain:
Reference materials, lesson plans, information and activity books that are age and grade appropriate.
Videos, posters, discussion guides, brochures.
Books.
Listings of material locations throughout the community.
This Program provides essential forums for broad community engagement focused on the goals of the Project.
Critical Issues Dialogues:
Creating and maintaining active, informed communities as a means for working toward solutions on issues that impact the community.
Community Forums:
Initiating and supporting debate, dialogue and deliberation about current issues of significance and interest to specific San Diego communities, organizations and groups.
The Interagency Coalition on Human and Civil Rights:
An alliance of San Diego organizations and agencies committed to advancing the causes of equality, justice, equal access and opportunity for all communities through education, activism and advocacy.
Development and purchase of materials for TALK! SAN DIEGO! include:
Discussion guides, brochures, reproduced reference binders.
Videos and facilitator training manuals.
Banners and posters.