San Diego Public Library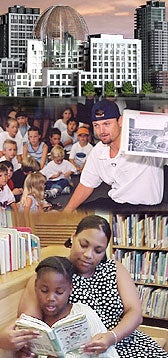 Our Mission is captured by the acronym, READ:
Respond to the information needs of San Diego's diverse communities.
Ensure equal access to local, national and global resources.
Anticipate and address the educational, cultural, business and recreational interests of the public.
Develop and provide welcoming environments.
San Diego is embarking on an ambitious ten year capital program to build a new library system to serve the community - a system for the 21st Century. At the same time, the Library's strong commitment to its mandate continues undiminished in its efforts to provide San Diegans with quality resources to support their interests and facilitate the fulfillment of their diverse information needs.
Charitable Partnering Opportunities
The New Main Library, and library facilities to complete the new, 21st Century System
Young people discover reading as a recreational activity through this creative program, as well as have their interest in reading, learning and developing their imaginations supported during the summer months. This past year nearly 40,000 youngsters attended over 700 programs at the Central and Branch Libraries.
Establishing good study habits in Elementary and Middle school years is paramount as student's progress through their education. Many children and teens use the Library's books, computers and online resources to do homework projects. This service is particularly necessary in areas of the City with large populations of challenged and at-risk children.
A Library-based, adult literacy program, it was uniquely recognized by the U.S. Department of Education as a model program. Nearly 15,000 adults in the San Diego region have been served by this program. In 2003, 1,041 adult learners received assistance with their reading from 890 literacy volunteers - 96% achieved significant gains in their reading test scores.
FFL is a Library-based program designed to break the cycle of illiteracy and to enable parents with limited literacy in the English language to develop their own skills and effectiveness as their children's first and most important teacher. Pre-schoolers along with their older siblings and parents come to the Library where skilled staff and volunteers teach phonics, numbers, nutrition facts and how to use the Library's resources. The entire family participates in literacy activities that revolve around a children's "book of the day."