Neighborhood Code Compliance Department Charitable Partnering Opportunities
| | |
| --- | --- |
| | |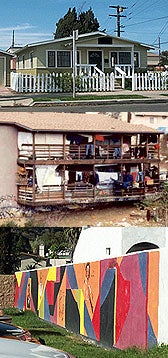 Contact Information
Frank Hafner,
Housing & Code Enforcement
(619) 236-5504
1200 Third Avenue,
Suite 800,
San Diego, CA 92101-4106
[email protected]
Neighborhood Code Compliance Department

San Diego is a wonderful city of diverse neighborhoods. Many are in pristine condition; however, others are not. The Neighborhood Code Compliance Department works in partnership with the residents of San Diego to rid our communities of graffiti, public nuisances, substandard living conditions, and blighted structures. Our primary mission is to make communities more livable through education and effective code enforcement.

Graffiti Control Program: $25,000 to $50,000
Help sponsor murals to deter graffiti; develop school anti-graffiti curriculum; sponsor an anti-graffiti mobile to visit neighborhood gatherings; purchase paint matching equipment, sprayers and supplies for community volunteer paint-outs; support law enforcement efforts by purchasing surveillance equipment.

Lead Safe Neighborhoods Program: $25,000 to $1,000,000
Help low-income residents remove lead hazards from their property; sponsor blood lead testing for children; provide equipment to lend to homeowners and do-it-yourselfers for lead-safe work practices.

Invest in Neighborhoods: $25,000 to $1,000,000
Help rehabilitate vacant or dilapidated properties; sponsor low-income, disabled and elderly residents to remove blighted conditions from their properties; support clean-up and fix-up events in neighborhoods.