San Diego Police Department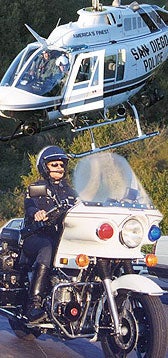 Committed to solving problems through community partnerships, the San Diego Police Department works with government agencies, private groups and individuals to fight crime and improve the quality of life for all San Diegans. Values-based policing underlies the management and operation of the Department, expressing: Protection of human life as the highest priority, treating all persons with dignity and respect, and recognizing that diversity brings strength and valuable knowledge.
Maintaining peace and order by providing the highest quality police services in response to community needs is the mission of the Police Department. The Department has developed several operational programs and initiatives which have the capability to substantially expand and strengthen its work. Each program and initiative offers a unique philanthropic opportunity to partner with the Department in fulfilling its commitments to the community.
Charitable Partnering Opportunities
Helicopter: $3,250,000
An aerial view combined with technologies like infrared cameras is essential in locating suspects who are hiding or fleeing, missing children and lost seniors. As part of the regional disaster preparedness/terrorism response, the Department's air support capability plays an integral role in this community system.
K-9 Retiree Program: $115,000 Annually
This Program enables the Department's Canine Unit to quickly replace retiring police service dogs with new dogs at the rate of approximately 5-10 dogs per year. The animals can provide these services only until they are approximately 8-1/2 years of age.
Regional Law Enforcement Education - Video Equipment: $75,000
Police personnel require continuing law enforcement education and training. Changes in the law, safety issues and more must be adhered to and practiced. Equipment essential to maintaining a high level of readiness and knowledge must be regularly updated and replaced. Digital photography and editing technology is required to replace equipment that is no longer capable of meeting the Department's education and training priorities.
Volunteer Services Program: $750,000
San Diegans annually provide services valued at more than $3,000,000. "You Are Not Alone" residence checks, crisis counseling, child fingerprinting are only a few of the important volunteer services provided through the Department. Creating a new and dedicated endowment would generate valuable income to support training, purchase of necessary equipment and operational support for this Program.