San Diego Housing Commission - Resident Services Department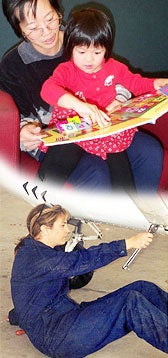 The Housing Commission's Resident Services Department aids families who receive housing assistance through two quality of life enrichment programs: Learning Opportunity Centers and Family Self-Sufficiency. These dynamic and intensive programs are designed to enable clients to attain their unique personal, family and community goals.
Learning Opportunity Centers:
Provided at seven Housing Commission-owned public housing sites, the Centers have on-site, qualified academic tutors, computer coaches and community college instructors. Each Center is equipped with computers and Internet access.
Supportive resources are offered for children and youth focused on:
Achieving academic success
College entrance preparation
Developing leadership skills
Resisting drug/gang involvement
Services available for adults include assistance in learning and improving computer skills, strengthening their language capabilities and increasing their academic skills.
Family Self-Sufficiency:
Committed to its clients' achievement of economic independence, the program is designed to assist adults who receive housing assistance to establish, pursue and successfully attain career goals that will lead them to economic self-sufficiency. The Resident Services Department partners with universities, community colleges and community-based organizations to help participants overcome the barriers and remove the obstacles to self-sufficiency. Collaboratively, access to support services and opportunities are provided for families.
Charitable Partnering Opportunities
Learning Opportunity Center - One-Year Underwriting Sponsorship:
$250,000 per Center
Student Scholarships - Youth and Adults: $25,000 to $100,000
Computers and Academic Software: $35,000 per Center
Arts & Cultural Programs: $25,000 per Center
Scholarships to Community College / University: $25,000 to $100,000
Supportive Services Fund: $50,000