What Areas Of The City Do Community Planning Groups Represent?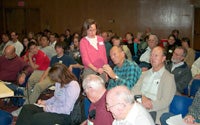 One representative sits on the Community Planners Group
The City of San Diego is divided into more than 50 planning areas. There is normally only one recognized planning group per community, and the physical boundaries within which the planning groups operate do not overlap. Exceptions to this include the Mid-City and Southeastern communities, which have been divided into multiple Community Planning Group areas. CPGs generally focus on issues and projects within the boundaries of the community. However, each group sends a representative to sit on the Community Planners Committee to address issues of citywide concern.