City Heights Mid-City Sr-15 Bus Rapid Transit Station Area Planning Study
Project Overview
A new bus rapid transit (BRT) facility is being planned for SR-15 in Mid-City. To take advantage of the increased transit service, the City of San Diego is conducting a planning study of the areas around the stations and the nearby community. The Mid-City/SR-15 Bus Rapid Transit Station Area Planning Study is focused on development scenarios around the BRT stations at El Cajon Boulevard and University Avenue and will provide:
Multimodal-oriented developments (MODs) are urban villages where all residents are within a 5-10 minute walk of quick, efficient public transit and can "live, work, shop, learn and play" in a pedestrian/cycle friendly environment - one where the automobile is an option, not a necessity.
MODs require the introduction of compact mixed-use development to establish the critical mass required to enable a "sense of place" to take root. But development alone is not enough. Connectively is of prime importance.
Particular care and attention needs be paid to the urban streetscape, generally, and the transit plaza, specifically, in multimodal-oriented communities. Not only is community character enhanced by opportunities for urban walkability, transit systems benefits, too, in that all transit riders begin and end their journey as pedestrians or cyclists.
A key to seeking development solutions lies in the realization that our current, unsustainable development pattern is not free, that we pay a high cost for building and maintaining our roadways and an equally high cost for providing either free or subsidized parking. The challenge of the SR-15 Mid-City BRT Station Area Planning Study, is to develop a visionary approach to integrating land uses with bicycling, pedestrian, and public transit use, and to determine how to pay for the desired improvement in urban sustainability.
Study Area
The study area covers a 273-acre section of Mid-City, bounded by Meade Avenue to the north, Wightman Street to the south, Cherokee Avenue to the west, and Van Dyke Avenue to the east as shown in the figure below. The primary focus of the study is the area in and around the proposed BRT stations at University Avenue and El Cajon Boulevard. However, land use and transit scenarios will be considered throughout the study area, in the context of connectivity with the rest of San Diego and the region.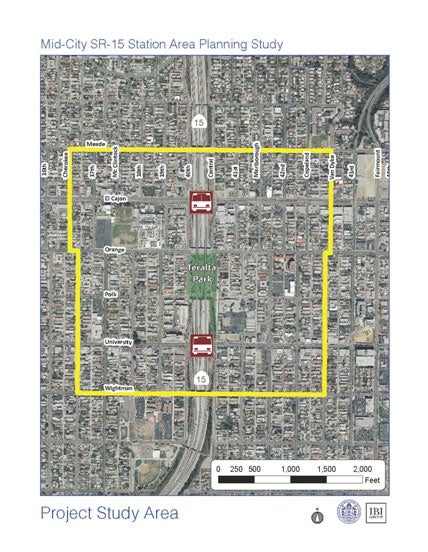 Study Effort and Work Products
The study will provide a series of technical memos, reports, and exhibits in developing recommendations for the Mid-City study area. The tasks and activities of the study are summarized below.
Document the current condition of transportation facilities, traffic levels, land uses, housing markets, and resident demographics to help guide the development of the land use scenarios
Map study area opportunities and constraints
Develop urban design vision
Conduct a massing study for three land use scenarios
Outline study area transition strategy
Develop urban form drawings and images
Examine the future conditions for different types of travel, including transit, automobiles, bikes, and pedestrians
Create a list of multi-modal mobility recommendations & a concept plan
Call out specific improvements with a mobility improvement project list
Draft project concept drawings
Develop co-location and buffer strategies
Develop two-dimensional visual simulation materials
Create and refine three land use scenarios
Refine multi-modal land use scenarios evaluation criteria
Prepare a land use scenario evaluation report, and select the preferred land use
Economic feasibility analysis
Market analysis & financial feasibility
Tax increment projections
Outline steps needed for implementation of the previous mobility, land use, urban design, and financing plans
Compile study results into a final report in both hard copy and electronic form
Schedule
The study began in January 2011 and will be completed by the end of December 2011. Key project milestones are listed below.
April 2011
Existing Conditions Documentation
April 2011
Community Walk Audit
May 2011
Urban Visioning Process
August 2011
Urban Design Report
November 2011
Multi-Modal Mobility Analysis
November 2011
Land Use Evaluation Report
November 2011
Phasing and Implementation Plan
November 2011
Economic Analysis of Proposed Scenarios
December 2011
Final Report
 
How Do I Get Involved?
There are several ways to get involved in the Mid-City study.
Study Website - This website will be updated regularly as the study progresses to provide more information on the alternatives, the analysis, and next steps.
Contact Us - Use the email link below to send us your thoughts and comments. All comments received will be considered in developing and analyzing the land use and transportation proposals. Contact us via email
Attend Presentations - Presentations will be made at key points in the study to the Planning Commission, Stakeholder Working Group, and other community organizations. A "walk audit" of the community designed to guide the urban visioning process is scheduled for April 16, 2011. Public meetings in June and throughout the Fall are also planned. Check the website regularly for times and places.
Get on Our Email List - Periodic project updates will be sent to keep you informed of the study's progress. Click Add your name to our email list