General Plan Draft Mobility Element
Enhancing mobility for San Diegans for a better future.
Details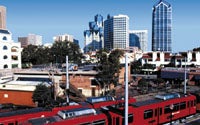 Downtown. Improving transit and land use connections,
facilitates and increases transit use.
The Draft Mobility Element outlines the City comprehensive transportation strategy. It calls for development of a convenient, efficient, and attractive multi-modal transportation system. System improvements and better management of the transportation system are recommended to make walking, bicycling, and transit use more safe, attractive, and efficient form of transportation, while also addressing the needs of drivers. This system should improve mobility for San Diegans by investing in transportation infrastructure, providing viable alternatives to the automobile, and managing congestion to improve travel times and choices. Future road improvements to enhance the connectivity of the transportation network will need to be balanced with goals of protecting neighborhood character and environmental resources.
The Mobility Element is closely linked to the Land Use Element, as the transportation system must be designed in coordination with plans for development/redevelopment. San Diego's transportation/land use connection promotes smarter, more sustainable growth by calling for homes, stores, jobs and services to be conveniently located to each other and connected by an improved regional transit system.
The Mobility Element will be used to guide implementation of the Mobility 2030 Regional Transportation Plan within the City of San Diego. The Regional Transportation Plan (RTP), prepared by SANDAG, identifies policies, projects, and funding sources to improve the transportation system in the San Diego region through the year 2030. The Regional Transit Vision/Transit First strategy to greatly improve transit services in our City is a major new initiative contained within the RTP, and is a key component of the City of San Diego's City of Villages strategy and draft Mobility Element.
Status
The City is preparing the release the Draft Mobility Element for public review and comment. The City continues to coordinate with SANDAG on the implementation of the RTP Regional Transit Vision.
More information