Transportation Demand Management (TDM)
Improve mobility and reduce vehicle congestion through the more efficient use of transportation resources.
Details
The goal of the City's Transportation Demand Management (TDM) program is to improve mobility, reduce congestion and air pollution, and provide options for employees and residents to commute to and from work. TDM strategies seek to reduce or manage the demand for our existing transportation system by reducing the number of peak period drive alone trips by promoting teleworking, alternative work schedules, walking, bicycling, carpooling, vanpooling, transit, carsharing, mixed-use development, and other transportation options. Commuters frequently are the focus of TDM actions because of their regular, predictable driving patterns, the possibilities of employer partnerships, and the opportunities for ridesharing programs. The City is committed to improve the integration of the region's transit system and other alternative modes of transportation into new land use developments to facilitate and encourage their use by all those who live and work in the City.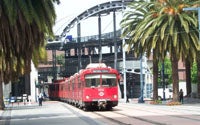 Downtown. The Trolley and buses are
part of a key TDM transit strategy.
The City works closely with the San Diego Association of Governments (SANDAG) to encourage the implementation of TDM measures on a citywide and regional basis in order to achieve reductions in employment-related drive alone trips. Since comminuting is regional in nature, SANDAG administers the regional TDM program by marketing and promoting the various benefits of TDM for employers and employees. By promoting TDM measures such as commuter benefits, employers can have a significant effect on the commuting behavior of their employees.
The Mobility Management section is available as a resource to employers and developers submitting development proposals to help them identify and pursue opportunities to implement voluntary TDM measures. The City has land development requirements and policies that support TDM strategies. These include requiring bicycle lockers, employee showers and lockers, carpool spaces, pedestrian paths, and a display of alternative transportation information as part of a proposed development projects.
Status
The City is early in the process of developing recommendations to amend the land development requirements for pedestrian, bicycle, carpool, and commuter information facilities. The City is coordinating with SANDAG on the implementation of a car sharing demonstration program.
More Information