Forensic Alcohol and Narcotics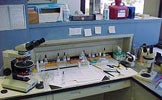 Narcotics Laboratory

Heroin Crystal Test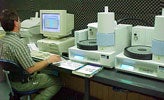 Gas Chromatograph for Alcohol Analysis
This Unit provides two primary services: analysis of illegal or restricted drugs and analysis of blood, breath, and beverage samples for alcohol content. Services for drug testing in biological samples are performed by a contractor.
Illegal or Restricted Drugs
Cocaine, methamphetamine, heroin, and marijuana are the most common types of drugs submitted for testing. PCP, "magic" mushrooms, LSD, steroids, MDMA, Ketamine, GHB and a variety of prescription medications are received regularly but less often. Preliminary reports for felony narcotics cases are completed in one day. These reports include a weight of the submitted substance and results of color tests, microcrystal exams, and applicable instrumental analyses. Copies of reports are faxed directly to the District Attorney's Office prior to arraignment.
Biological Sample Analysis
Breath testing instruments are maintained by the laboratory for alcohol analysis. Blood and urine samples are analyzed in the laboratory for alcohol with a four-day or less turnaround time. Biological samples are submitted to a contractor for drug testing. Samples are automatically submitted to the contractor for drug testing if an alcohol test was below 0.08 grams %.