Special Event Space Rentals
Mary Hollis Clark Conference Center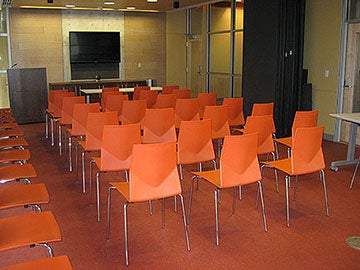 Location: First Floor
Square Footage: 688
Capacity: 46
Description: Flexible space that can be split into two rooms for smaller gatherings. It also can be accessed after Library hours for evening meetings.
Customer service area
Automated self-checkout machines
A dramatic gravity arch and waffle ceiling that are not only part of the unique design features, but also provide stability for the weight of the books and floors above.
The four backlit suspended chandeliers are 12 feet diameter and are attached to a steel armature. They are made from "3form's Varia Ecoresin," which is copper cloth sandwiched between the resin panels.
Room Layouts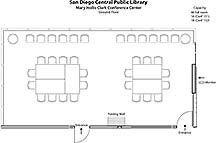 Audio Visuals
Podium
Two 60-inch monitors
Rates
 
Daily - 8 hr
Rental Fee
Commercial
Daily - 8 hr
Rental Fee
Not for Profit
4 hr
Rental Fee
Commercial
4 hr
Rental Fee
Not for Profit
1 hr
Rental Fee
Commercial
1 hr
Rental Fee
Not for Profit
Room 151
(Small)
Capacity: 16
$230
$130
$115
$65
$29
$16
Room 152 (Large)
Capacity: 18
$270
$160
$135
$80
$34
$20
Room 151 & 152 (Combined)
Capacity: 46
$480
$260
$240
$130
$60
$33
Pricing Note:
A minimum rental rate of four hours will be charged for this rental space. Each additional hour, including load in and load out time, will be charged the hourly rate.
Daily (eight hour) rental rates are used as a point of comparison only. Event space may not be available for all day rental.
Additional ancillary fees based on the Library's current fee structure may be charged depending on the event to recover after hours expenses or costs for additional staffing, security, audio visual needs or cleaning.
The Library does not have a catering list. Renters can choose their own caterers and are responsible for related catering costs.
Contact Us
For more information about Special Event Space, visit: http://www.sandiego.gov/public-library/specialevents/specialeventsindex.shtml or
Contact us at: [email protected].