AARON's Garden

Artist Harold Cohen to Exhibit New Works at Taylor Library Press Release
The Visual Arts Program of the San Diego Public Library is proud to host the second solo exhibition of digital prints by AARON, a landmark computer program whose design and refinement has been the focus of artist and visionary Harold Cohen for nearly four decades.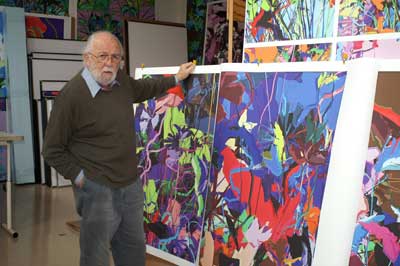 Cohen was already a world famous painter when he came to San Diego from London to teach at UCSD's Department of Visual Arts in the late 1960s. Not long after his arrival, almost by fate, Cohen was introduced to computers and computer programming, which, by today's standards, were still relatively primitive. For Cohen, what started out as curiosity became a life-long passion, ultimately causing him to abandon traditional artmaking in favor of building robotic machines that drew and painted. Over the years, Cohen phased out the machine "middlemen" in favor of a more direct process, but the "brains" of the machines (the computer program he calls AARON), have continued to evolve into what can only be described as one of the most revolutionary means of creating art ever invented by mankind.
Cohen's unique success at the seemingly impossible task of imbuing software with the creative instincts of a human artist (software that creates works of art autonomously and with no human intervention) has earned him stellar international reputations in the worlds of science and fine art. However, as ingenious and important as Cohen's work with algorithms and artificial intelligence is, the ultimate test of AARON's success is the quality of its art. By any standards, AARON's works are spectacular, rivaling - and even exceeding - those created by human artists.
Cohen and AARON have never stopped evolving. Since the last Cohen/AARON library exhibition in 2004, AARON's art has become more complex and abstract. Also, Cohen has developed a new way of presenting the works; archivally sealing the digital prints with layers of polymer. Not only are they marvelous technical achievements, but their originality, scale, graphic power, sophistication, and color rival those of conventionally conceived and executed art. Cohen, in the guise of AARON, raises important questions about the nature of art, creativity, perception, and even life itself.
Works by Cohen/AARON have been exhibited in countless museums, galleries, scientific institutions, and other venues throughout the world and Cohen frequently speaks at major conferences and symposia internationally.
Two essays recently written for a catalogue to be published in conjunction with a forthcoming Cohen/AARON exhibition in Lisbon, Portugal, are available below. The first essay, "Forty-Five Years Later...," written by Cohen, addresses the philosophical and theoretical aspects of AARON, and the second, "Comments and Observations on AARON," written by me, focuses on the aesthetics of AARON's art. After the library exhibition closes, some of the works will travel to the Museum of Contemporary Art San Diego (MCASD Downtown) for another exhibition. Also, over the next few weeks, an hour-long Visual Arts Program "Profiles" interview with Cohen, taped in 2004, can be seen as a rerun on CityTV 24.
Mark-Elliott Lugo, curator
San Diego Public Library
Articles
Essays
Images
Postcards