Biography of Dr. Isabel Schon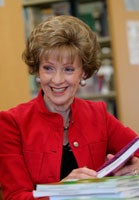 Dr. Isabel Schon, who passed away on March 2, 2011, was the first Director and inspiration for establishment of the Isabel Schon International Center for Spanish Books for Youth at the San Diego Public Library. She was internationally renowned as the most trusted source for reviewing Spanish-language books for youth.
When Dr. Schon selected the San Diego Public Library as the new home for her Center, she had an immediate and significant impact on the quality of the Library's Spanish-language collection for youth. Dr. Schon mentioned that she selected San Diego Public Library because of the access it would provide, not only in San Diego but around the world.
Dr. Isabel Schon was born in Mexico City and, in 1972, came to the United States where she obtained a Doctor of Philosophy degree at the University of Colorado in 1974. She was the author of 25 books and more than 400 research and literary articles in the areas of biliteracy/multicultural education and literature for Latino children and adolescents.
Dr. Schon was a consultant on bilingual/bicultural educational materials to schools, libraries and ministries of education in Mexico, Colombia, Guatemala, Argentina, Venezuela, Chile, Spain, Italy, Ecuador and the United States.
From 1989 to 2008 she was founding director of the Barahona Center for the Study of Books in Spanish for Children and Adolescents and a professor and founding faculty at California State University, San Marcos.
She received several national and international awards, including the:
2006 - Distinguished Alumni Achievement Award from Minnesota State University Mankato for "professional success and the positive impact made to the profession and the community."
2005 - Dorothy C. McKenzie Award for Distinguished Contribution to the Field of Children's Literature presented by the Children's Literature Council of Southern California.
1992 - U.S. Role Model in Education Award presented by the U.S. - México Foundation.
1992 - Denali Press Award from the Reference and Adult Services Division of the American Library Association for "achievement in creating reference works that are outstanding in quality and significance and provide information specifically about ethnic and minority groups in the U. S."
1987 - Women's National Book Award, "One of 70 women who have made a difference in the world of books."
1986 - American Library Association's Grolier Foundation Award for "unique and invaluable contributions to the stimulation and guidance of reading by children and young people."
1979 - Herbert W. Putnam Honor Award presented by the American Library Association, "to study the effects of books on students' perceptions of Mexican American people."