Ocean Monitoring Data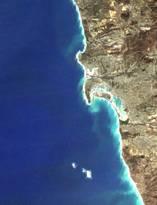 The City of San Diego collects the data available herein as part of the regulatory permit requirements governing wastewater discharge to the Pacific Ocean through the Point Loma and South Bay ocean outfalls. The City's Ocean Monitoring Program is administered by the Public Utilities Department's Environmental Monitoring and Technical Services Division. Monitoring surrounding the current discharge site for the Point Loma Ocean Outfall began in July 1991, while monitoring of the South Bay Ocean Outfall region began in July 1995. Ocean monitoring data for calendar years beginning 2001 are currently available for downloading, although prior historical data will also be posted to this site as time permits. New data will be posted to this site after all data reporting requirements to the San Diego Regional Water Quality Control Board have been fulfilled and the data subsequently become available for public dissemination. Such new data postings will usually occur on a quarterly basis.
Disclaimer
All data are subjected to rigorous quality control procedures before being reported to the Regional Water Quality Control Board and posted to this site. (For more detailed information regarding quality control processes, please refer to the most recent annual

Quality Assurance Manual). Be advised, however, that the data are subject to modification at any time due to ongoing quality control measures. Consequently, the Ocean Monitoring data available herein are only as current as of the date/time of the posting to this site. It is the intended user's responsibility to periodically check back to this site to see whether the data in question have been updated.
View Data
Data files are structured specifically for use in scientific research projects and provided in Comma Separated Value (.csv) format. Excel or other spreadsheet applications will automatically recognize the .csv file extension and import the data into appropriate columns.
For questions, downloading assistance, or to request the data in an alternative format, contact [email protected].