Recycled Water Filling Station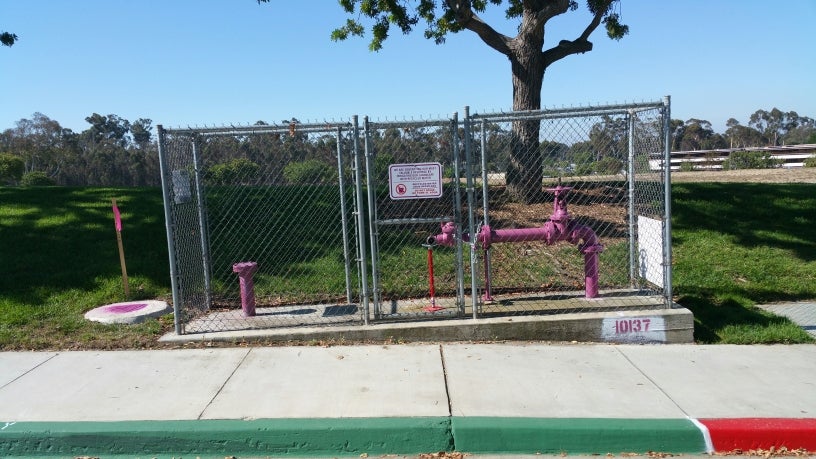 The Residential Recycled Water Filling Station is a part of the City's ongoing effort to provide programs and services to help customers use water efficiently. Using recycled water for irrigation replaces the need to use drinking water for landscaping needs. Recycled water has been treated to a level that is ideal for irrigation and landscaping.
To assist City of San Diego customers who wish to use recycled water for landscape irrigation at their property, the Public Utilities Department is offering recycled water at a pilot fill station. Recycled water is available at no additional cost for City of San Diego Public Utilities customers only.
Location and Hours of Operation: 
The Residential Recycled Water Filling Station is located in Scripps Ranch at 10139 Meanley Drive, San Diego, CA 92131.
The Filling Station is temporarily closed.  It is expected to reopen Saturday, June 9, 2018. Check back here for new open hours.
How to Get Recycled Water for Residential Landscaping
Prior to filling up, you must first review the

Recycled Water Filling Station Training Program describing regulations for the use of recycled water and attend a brief training at the fill station site. You must also verify that you are a City of San Diego Public Utilities customer, certify that you have reviewed proper recycled water use procedures and receive a fill station card and stickers that are to be placed on any water containers that will be transporting recycled water. To receive the items mentioned above, please bring the following to the fill station on your first visit:
A copy or printout of your Public Utilities billing statement (phone screenshots are acceptable);
Valid identification with an address matching the billing statement;
Please print and complete a  Residential Recycled Water Use Application and Agreement Form prior to arriving at the station. If you are unable to print the form, blank forms are available at the fill station; and
Container(s) that you will use to transport recycled water from the fill station. Please note that containers are limited to one to 300 gallons in size, they may not leak and must have watertight lids.
Bring your documentation to the residential fill station during the hours of operation mentioned below. An on-site attendant will provide a brief training, review your documentation and issue your fill station user card. Fill station user cards are available at no additional cost and are non-transferable.
The on-site attendant will also provide stickers to be affixed to your containers indicating that the containers have been approved for recycled water use.
On subsequent visits, the on-site attendant will check your identification and your fill station user card, and will verify that your containers feature the appropriate sticker. Stickers for additional containers may be obtained on subsequent visits.
Recycled water is available only to City of San Diego Public Utilities customers for their personal use at their property.
On-site attendants will be available at the residential fill station during the hours of operation to assist customers with information. Customers must fill their own containers.
Recycled Water Containers
Customers may transport recycled water using containers sized at a minimum of one gallon and a maximum of 300 gallons. Customers bringing containers smaller than one gallon or larger than 300 gallons will be asked to return with the appropriate size. Containers must be leak-free with a water-tight lid.
There is no limit to the number of visits that a customer can make.
Please note that water is heavy! One gallon of water weighs over 8.345 pounds; 100 gallons weighs approximately 835 pounds. When driving a vehicle with a heavy weight, be sure to allow enough stopping distance. Ensure your vehicle can handle the amount of recycled water you collect and transport. Your containers must be secured for safe transport.
Do Not Connect to Irrigation Systems
For health and safety reasons, tanks, pumps, hoses and other equipment containing recycled water may not be connected to a dedicated irrigation system, even if that system is disconnected from your drinking water system. Illegal interconnections between the drinking water and recycled water supplies is prohibited. Any such connection violates the State's drinking water regulations and the User Application and Agreement. Violators may be subject to loss of fill station privileges, fines, and other penalties. Please contact the Public Utilities Department at 619-533-3555 if you have any questions regarding appropriate methods of storing and using recycled water.
Related Documents