Rainwater Harvesting (Rain Barrels)
Receive up to $1 per gallon of barrel storage capacity for residential rainwater harvesting (rain barrel) rebate program, up to 400 gallons and $400 per property.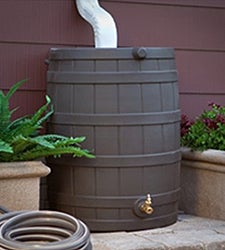 Landscapes can soak up more than 50 percent of the water used at a typical San Diego home. Capturing rain from your roof is a quick way to conserve water and help prevent pollution by reducing the amount of runoff entering our storm drain system. Then, use your catch to help irrigate your landscape.
City of San Diego Public Utilities residential customers can receive a cash-back rebate when purchasing and installing a rain barrel and connecting it to the home's rain gutter downspout.
Read the guidelines below to understand the program requirements and application process. Rebates will be distributed on a first-come, first-served basis and funding is limited.
Rainwater Harvesting Rebates (Rain Barrels and Downspouts)
Rain barrels and downspouts are used to capture rainwater from hard surfaces such as rooftops. These barrels are a quick way to conserve - then use - water for irrigation purposes, as well as to help prevent pollution by reducing the amount of runoff entering our storm drain system.
Rain Harvesting Rebate
(Available for City of San Diego residential water customers only).
$1 for every gallon of rainwater storage capacity, up to 400 gallons and $400 per property.
Minimum total storage capacity to receive a rebate is 45 gallons. Connecting several rain barrels is acceptable.
Rooftops must have gutters and downspouts to collect the rain.
Read the Rainwater Harvesting Guidelines
Take pre-installation photos.
Purchase and install rain barrel(s).
Take post-installation photos.
Send in completed and signed along with sales receipts and photos.
Receive a rebate.
Costs Covered by Rain Harvesting Rebate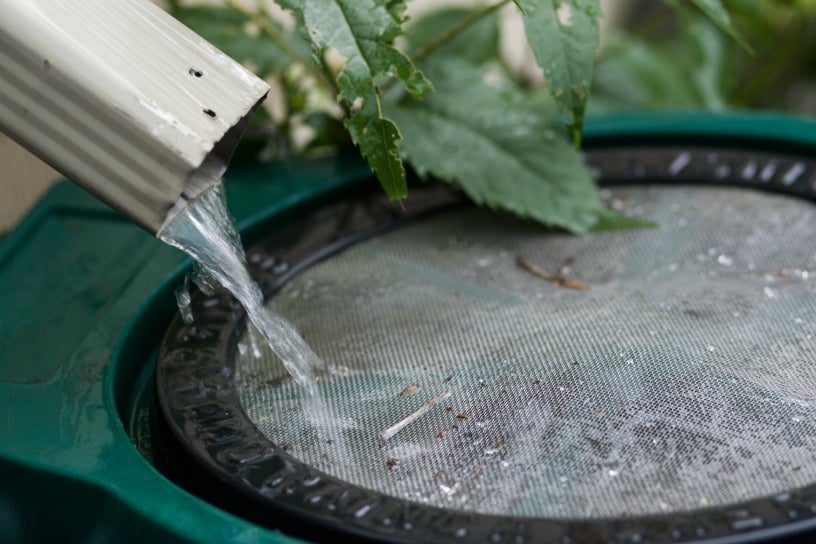 Total rebate amount will not exceed the cost of the device(s), or $400 per property. Only the cost of the rain barrel is eligible for a rebate. The expense for labor, taxes, shipping, and incidental materials related to installation do not qualify, nor do homemade rain barrels.
This pilot program is made possible through funding from the City of San Diego's Transportation and Storm Water Department. The program is administered by the Public Utilities Department's Water Conservation Program.
General Information About Rain Barrels
Rain barrels are used to collect rainwater from hard surfaces such as rooftops. When you install a rain barrel at your home you are helping to maintain a healthy urban watershed by reducing the demand on the potable water system to irrigate your garden. By reducing the amount of wet-weather runoff that is collected and sent to the public storm water system it will also reduce the amount of water that goes untreated into our bays and estuaries.
The amount of water that can be collected from a rooftop depends on several variables, including the dimensions of the rooftop, the collection capacity, and the amount and timing of the rain received. Be sure to do some calculations to determine how much rain barrel storage capacity you need. Remember, San Diego typically receives around 9 to 10 inches of rain annually.
Rainwater catchment rule of thumb:
1,000 square feet of roof surface captures 625 gallons of water for every 1 inch of rain that falls.
Helpful Resources
General Water Conservation information is available by calling 619-533-7485
For additional information, call 619-515-3516 or email [email protected]