Lead Testing in Schools
The delivery of safe water to each person in the City of San Diego and every one of its schools is and has always been a top priority of the Public Utilities Department.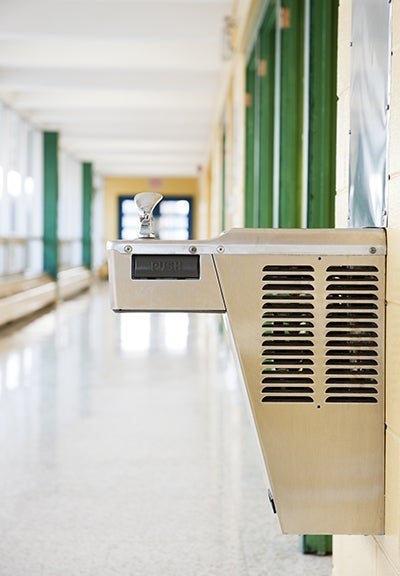 U.S. Environmental Protection Agency regulations require monitoring of lead and copper in drinking water at customer taps every three years.  Our triennial Lead and Copper Studies, dating back to 1992, have consistently demonstrated that the City of San Diego is effectively controlling corrosion.
In addition, the City of San Diego routinely tests over 100 samples per year from its drinking water and supply water for lead.  Annually, the City provides a comprehensive Drinking Water Quality Report, also called the Consumer Confidence Report, to all water users in our service area. This report includes the results of our triennial lead sampling of residences within the City of San Diego, as well as the results of many other required tests. The City's most recent report can be found on the Drinking Water Quality Reports web page.
How Lead Gets into Drinking Water
Lead can enter drinking water when service pipes that contain lead corrode, especially where the water has high acidity or low mineral content that corrodes pipes and fixtures. The most common problem is with brass or chrome-plated brass faucets and fixtures with lead solder, from which significant amounts of lead can enter into the water, especially hot water.
New State Requirements
The state of California's Division of Drinking Water has recently amended drinking water permits to community water systems to include lead testing in schools that serve grades K–12 on the state Department of Education's school directory.
This amended permit requires the City to sample for lead at any qualified public or private school that requests sampling assistance, in writing, from the Public Utilities Department.
The City will provide sampling and lead analysis at no charge for schools located within our service area, which encompasses multiple school districts.
Each state Department of Education school (K-12) can request one lead sampling event by Nov. 1, 2019.  The City of San Diego has provided a  template that can be used to request sampling.
Letters should be mailed to:
City of San Diego Public Utilities Department
Attn: Lead Testing in Schools
5530 Kiowa Drive
La Mesa, CA 91942-1331
Letters may also be scanned and emailed to [email protected].
For general information on the state's school lead testing requirements, please visit the State Water Resources Control Board website.
For more information on the City's school lead testing program, please send an email to [email protected].