Independent Rates Oversight Committee (IROC)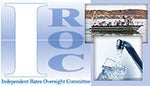 The Independent Rates Oversight Committee (IROC) serves as an official advisory body to the Mayor and City Council on policy issues relating to the oversight of the City of San Diego's Public Utilities Department operations. This includes, but is not limited to, resource management, planned expenditures, service delivery methods, public awareness and outreach efforts, and high quality, affordable utility services. In addition, the IROC is established to assist the City in tracking and reviewing the use of rate proceeds to advance the capital improvements related to rate packages and work programs adopted by the City Council. It is the vision of the IROC that a high level of public confidence in the City of San Diego's utility services is maintained with services provided in the most cost effective way.
Meetings
Full IROC meetings are held monthly, every 3rd Monday, unless otherwise noted on the Agenda, at 9:30 a.m. Agendas are posted at least 72 hours prior to the scheduled meetings to meet the Brown Act requirements. Meeting Minutes are posted when approved.
Meeting location, unless otherwise posted on agenda:
MOC II/Auditorium, 9192 Topaz Way, in Kearny Mesa.
Members
Tiffany Mittal, Multi Family Residential Ratepayer, Chair
Jeff Justus, Environmental Science Professional, Vice Chair
David Akin, Single Family Ratepayer Representative
Christopher Dull, Construction Management Professional
VACANT - Law Professional
Gordon Hess, Temporary Irrigation and Construction
Jack Kubota, Engineering Professional
Luis Osuna, General/Law Professional
Jim Peugh, Environmental Professional
Linh Quach - Commercial Ratepayer Representative
Jerry Jones, Ex-Officio/Metro JPA Representative 
Jim Peasley, Ex-Officio/Metro JPA Representative, Alternate
Lois Fong-Sakai, City 10 Representative
Robert Weichelt, Real Estate Professional
For information on IROC duties, appointments, terms or composition, visit the City Clerk's IROC web page.
To view expiring terms or unscheduled vacancies, or to apply for a City Board or Commission such as IROC, visit the City Boards and Commissions web page.