Environmental Protection
Being Green Helps Department Save Green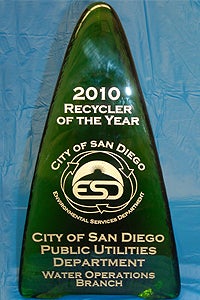 The City of San Diego's Public Utilities Department has a number of excellent "green" and sustainable programs. Each program and project share a common goal of improving the local environment while helping to keep the Department's cost down. With the Department providing water and wastewater services to millions of San Diego residents each day, it is imperative that we remain mindful of environmental impacts of these services, and how we can help minimize our carbon footprint from recycling waste to ocean monitoring. Learn more about the Public Utilities Department's sustainable programs through the links below.
Energy Efficiency Program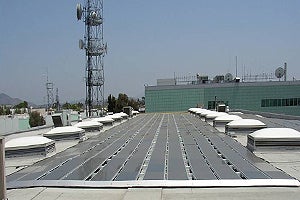 Energy independence is a primary City goal; specifically the Public Utilities Department aims to capitalize on the energy production opportunities of the City's water and wastewater facilities through its Energy Efficiency Program. The Point Loma Wastewater Treatment Plant is energy self-sufficient, producing double its energy needs using methane gas produced during the wastewater treatment process to power two large electrical generators. The plant also harnesses the force of the plant's discharged wastewater by channeling it through a hydroelectric plant at the outfall. The City sells the excess energy it produces back to the San Diego Gas & Electric Company. The North City Water Reclamation Plant, the Metro Biosolids Center, and the Miramar Landfill work together to similarly maximize the use of methane gas which is converted to electricity to run those plants. Additionally, the City installed solar panels at both the Alvarado and Otay water treatment plants to generate renewable energy to help run them. The Public Utilities Department produces over 90% of the renewable energy utilized by the City and saves the City approximately $2 million a year in energy costs at the Point Loma plant alone. The energy savings made by the Department directly benefit the residents of San Diego by helping to maintain lower sewer rates while providing renewable electric energy to the region. and maintain the system effectively, efficiently, and competitively.
Groundwater Supply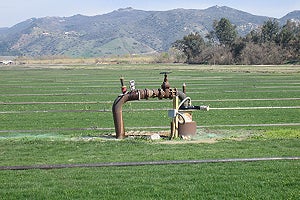 A priority for the City is to develop new local water supplies and storage. The use of groundwater contributes to regional efforts to reduce demands for imported water. The City is currently investigating several groundwater basins within its jurisdiction to determine the feasibility of each basin as a sustainable resource for production and/or storage.
Metro Biosolids Center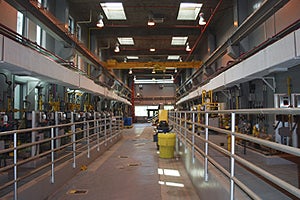 The award-winning Metro Biosolids Center is the City's state-of-the-art regional biosolids treatment facility. Biosolids are the nutrient-rich, processed organic material produced by the wastewater treatment process. The plant, which began operation in 1998, is an essential component of the region's wastewater treatment system. Up until 1998 digested solids (sludge) from the Point Loma Wastewater Treatment Plant's digesters were dried in open fields or through belt and filter presses on Fiesta Island in Mission Bay and then trucked to landfills.
The Metro Biosolids Center provides two treatment operations: thickening and digestion of the raw solids (raw sludge) generated at the North City Water Reclamation Plant; and the dewatering of the wet biosolids from both the Point Loma Wastewater Treatment Plant and the North City Water Reclamation Plant. The facility produces dewatered biosolids that are approximately 30% solids and 70% water, the consistency of wet plaster. Biosolids may be used to promote growth of agricultural crops, to fertilize gardens and parks and to reclaim and replenish worn and nutrient-depleted land. Currently, biosolids are used as soil amendments, landfill, and landfill cover.
The Public Utilities Department has a comprehensive energy conservation plan, and one of its key elements is cogeneration, the utilization of methane gas to power the largest Wastewater facilities. The Department has a long-term agreement with a private firm that uses methane generated by the Metro Biosolids Center digesters and the Miramar Landfill to power both the Metro Biosolids Center and the North City Water Reclamation Plant.
Ocean Monitoring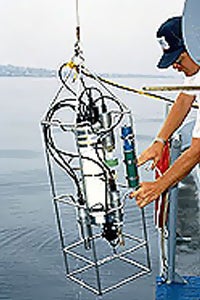 The Wastewater Operations Branch continues to be a leader in the protection of our local marine environment. Our goal is simple: to protect the quality of our ocean water, its marine life and the people who rely on the ocean for recreation and livelihood. Our professional staff of marine biologists, microbiologists, chemists and toxicologists collects and analyzes tens of thousands of ocean samples and a half million pieces of chemical, biological and oceanographic data annually, all to determine the effects of the Point Loma Wastewater Treatment Plant's discharge on the ocean environment.
The results are excellent:
Fish in the waters off Point Loma are safe to eat.
A healthy population of fish, shellfish and bottom-dwelling animals is maintained.
Our beaches and kelp beds are not impacted by the plant's discharge.
In addition to monitoring our local environment, our Environmental Monitoring & Technical Services staff has worked with their Mexican counterparts to help them establish a monitoring and industrial pretreatment program of their own. The results are very promising with an end result that will benefit not only the citizens of Tijuana, but the residents of San Diego's South Bay and their beaches.
Recycling and Waste Reduction Program
Combining technology with environmental protection, the Public Utilities Department's Water Operations Branch integrated the Bid-to-Goal management tool (a performance-driven business plan) with the international ISO 14001Environmental Management System. ISO 14001 is a certified environmental management system, merging service improvement with environmental responsibility. It is an international voluntary standard that involves a set of policies and procedures to manage environmental issues as part of our work, and the services we provide. Water Operations was the first utility in the nation to implement such a program, and it continues to take a leadership role and improve services that benefit all San Diegans. Improved efficiency and environmental sustainability and reduced operations costs are just some of the benefits of this integrated program.
The objective of the Water Operations' Recycling and Waste Reduction Program was to reduce Miramar Landfill usage, and recycle and reuse concrete, asphalt, soil debris, copper, brass, paper, and other materials whenever possible. The program improves the environment and saves the City money. We continually train staff members and monitor their performance to separate materials appropriately for recycling or landfill diversion. Some examples of materials that were going to the Miramar Landfill that we now recycle are: wooden pallets, scrap wood, steel meter box lids, concrete meter box lids, steel gate casing, cast iron gate caps, cast iron water mains, ductile iron water mains, concrete, asphalt, soil debris, brass fittings, copper pipe, cardboard, plastic, and paper. In addition, Water Operations staff separates office paper, cans, bottles and plastic from the trash and places them in recycling bins for proper recycling.
From fiscal year 2005 through fiscal year 2010, Water Operations recycled 71,025 pounds of paper, cans and bottles; 34,477 tons of asphalt, concrete and soil; and 635 tons of scrap metal. The program saved the Department approximately $645,000 in landfill fees over the five-year period. In the future, the program is expected to annually recycle 10,000 pounds of paper, cans and bottles; 6,900 tons of asphalt, concrete and soil; and 125 tons of scrap metal.
Recycled Water Program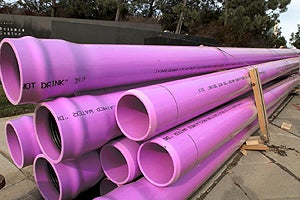 The San Diego region currently relies on imported water for 85% to 90% of its water supply. By implementing a Recycled Water Program, the City is able to reuse an existing resource for a variety of different uses. In place since 1997, the Recycled Water Program provides customers with recycled water for industrial processing, cooling towers, construction site dust suppression and soil compaction, decorative fountains, and toilet and urinal flushing. The City's North City Water Reclamation Plant and the South Bay Water Reclamation Plant treat wastewater to a level that is approved for irrigation, manufacturing and other non-drinking, or non-potable uses.
Recycled Water Study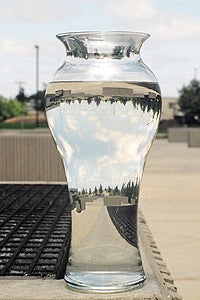 The City of San Diego conducted a

Recycled Water Study in 2009. The focus of the study was to develop water reuse alternatives and then weigh the alternatives against other options with particular focus on the water supply benefits and the cost savings through reduced wastewater systems operations and improvements.
Water Conservation Program
San Diego is located in a semi-arid coastal desert environment that averages 10 inches of rainfall annually. Only 10% to 20% of San Diego's water is of local origin, collected as runoff in the City's nine reservoirs. The City's Water Conservation Program consists of a diverse strategy aimed at reducing San Diego's dependency and demand on imported water. It is committed to giving San Diegans the knowledge, tools, programs and resources necessary to save water. Successful savings have been achieved by creating a water conservation ethic that includes using water saving techniques in everyday life, adopting programs, policies and ordinances designed to promote water conservation practices, and implementing comprehensive water-use education campaigns.
Water Purification Demonstration Project
As part of the City's effort to provide a local and sustainable water supply, the City conducted a Water Purification Demonstration Project to examine the feasibility of using advanced water purification technology to provide safe and reliable water for San Diego's future. The Demonstration Project, which included more than 9,000 water quality tests, determined that water purification with reservoir augmentation is feasible for San Diego. San Diego's three-step water purification process produces a safe supply of water that meets all federal and state drinking water standards.
Pure Water San Diego
Following the success of the Water Purification Demonstration Project, the City is moving forward with Pure Water San Diego, a program to provide a safe, sustainable and cost-effective local drinking water supply for San Diego. An initial 30-million gallon per day water purification facility is expected to come online in 2021. Upon program completion, Pure Water will provide one third (83 million gallons per day) of San Diego's drinking water by 2035. Benefits of the Pure Water program include a local and sustainable supply of high-quality drinking water, decreased dependence on imported water, less discharge into the ocean and a move toward lower carbon emissions.
Sewer Spill Reduction Program
In 2001, the then-Metropolitan Wastewater Department (now Public Utilities Department) embarked on an aggressive Sewer Spill Reduction Program. The key elements of this program included cleaning all 3,000 miles of the Municipal Sewerage System by 2004 and developing a system-wide cleaning schedule; televising and assessing the condition of more than 1,200 miles of the oldest and most problematic sewer lines in the system; and increasing the number of miles of sewer lines replaced or rehabilitated from 15 miles per year to 45 miles per year.
The results of this program are dramatic. From 365 sewer spills in 2000, the number of spills in all of 2007 dropped to only 77 events – a 79% reduction. The program's success is also seen in the reduction of beach closures as a result of sewer spills. In 2000, there were 33 sewer spills that reached public waters. In 2007, there were only eight.
Watershed and Resource Protection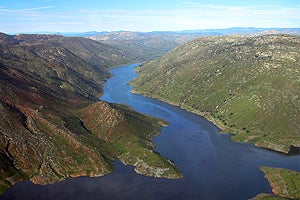 The Public Utilities Department owns and manages over 42,000 acres of land and water surface in the county of San Diego. These lands surround nine reservoirs (Barrett, El Capitan, Hodges, Miramar, Morena, Murray, Otay, San Vicente and Sutherland) and two basin areas that do not contain reservoirs (Pamo Valley and Marron Valley) and comprise our watersheds. Protecting water quality is primary in importance to the Public Utilities Department. Additionally, the Department is committed to preserving and protecting the natural resources that exist on its lands and its reservoirs. Because these lands have been largely protected from development and human disturbance, they support important and high-quality habitats and resources for a wide variety of plant and animal species. The City aims to protect these natural resources for future generations.
Water Supply Assessments
Water supply assessments (WSAs) are required to be prepared by local water supply agencies for certain large-scale development projects in accordance with California State Senate Bill 610 (SB 610). The intent of SB 610 is to improve the link between information on water supply availability and certain land-use decisions made by cities and counties.  WSAs evaluate whether the water supplier's total projected water supply will meet the projected water demand associated with the proposed project, in addition to the supplier's existing and planned future water demands. The Public Utilities Department is responsible for preparing WSAs within the Public Utilities Department service area.

Water Supply Assessments presentation