Official City of San Diego Seal/Corporate Identity
The official seal of the City of San Diego was adopted by the City Council on April 14, 1914, and superseded a design that had been in use since Jan. 5, 1888.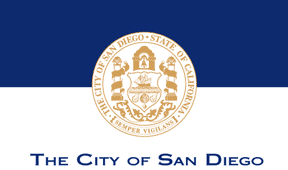 The pillars of Hercules are used as supporters to recall the ancient territorial jurisdiction of Spain.
The winged wheel represents manufacturing and transportation.
The two connected dolphins symbolize the Pacific and Atlantic oceans, inseparably united by the Panama Canal.
The motto, "Semper Vigilans," means "ever vigilant."
The orange tree represents agriculture
The Spanish caravel represents the exploration and settlement by the Spanish.
The blue wavy band below it represents the city's position on the sea.
The mission or carmelite belfry suggests early settlement by the mission fathers.
In 1997, a blue bar was added behind the seal and the words "The City of San Diego" included below the seal. This is now the City's official corporate identity.