Urban Corps Buyback Recycling Center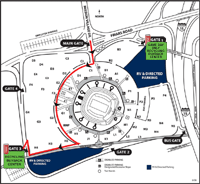 The recycling center accepts all CRV beverage containers with the "CRV," "CA Redemption Value" logo including: aluminum, glass and plastics. A professional sorting table is provided to expedite the process.
The general public can drop off other recyclable non-CRV beverage containers and plastics #3 - #7, however there is no cash redemption for such materials.
Urban Corps also accepts Electronic Waste at the Buyback Center. Most E-waste items are accepted including computers, laptops, monitors, CD/VCR/DVD players, cell phones and landline phones, radios, TVs, and other small home and office electronics.
Hours of operation: Sunday, Monday and Tuesday, 7 a.m. to 5 p.m.
For more information,

download our flyer or call 619-954-7562.
Directions
The Urban Corps Recycling Buyback Center is located at the southwest end of the SDCCU Stadium parking lot. Make a right when you come in the main gate, and another right into the open gate across from Section H (Gate 3). The Center is under the trolley ramp by the practice field.
About the Urban Corps

The Urban Corps of San Diego County provides paid green job training and an education to young adults in the fields of recycling, conservation and community service. Corps members work in the community while earning their high school diploma. It is the only San Diego organization that links youth development, job training, and education with the environment.
By supporting the Urban Corps' Recycling Buyback Center at SDCCU Stadium, you are helping to provide jobs, education and environmental awareness to thousands of youth ages 18 to 26 years as they strive to create a better life for themselves.