San Diego County Credit Union Holiday Bowl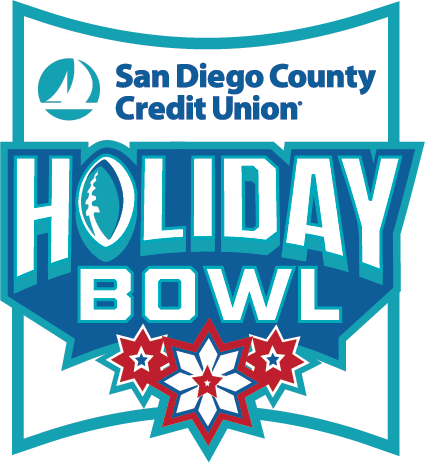 The Holiday Bowl is a non-profit organization and has a mission of generating tourism, exposure, economic benefit and civic pride for San Diego and its citizens by producing the nation's most exciting bowl game and festival of events.
Each year the Holiday Bowl matches up teams from the Pac-12 and Big Ten conferences.
This 2017 year is their 40th annual game that was played on Thursday, December 28th at 6:00 p.m.
Holiday Bowl Results
| | |
| --- | --- |
| 2017 | Michigan State 42 - Washington State 17 |
| 2016 | Minnesota 17 - Washington State 12 |
| 2015 | USC 21 - Wisconsin 23 |
| 2014 | USC 45 - Nebraska 42 |
| 2013 | Texas Tech 37 - Arizona State 23 |
| 2012 | Baylor 49 - UCLA 26 |
| 2011 | Texas 21 - California 10 |
| 2010 | Washington 19 -– Nebraska 7 |
| 2009 | Nebraska 33 - Arizona 0 |
| 2008 | Oregon 42 - Oklahoma State 31 |
| 2007 | Texas 52 - Arizona State 34 |
| 2006 | California 45 - Texas A&M 10 |
| 2005 | Oklahoma 17 - Oregon 14 |
| 2004 | Texas Tech 45 - California 31 |
| 2003 | Washington State 28 - Texas 20 |
| 2002 | Kansas State 34 - Arizona State 27 |
| 2001 | Texas 47 - Washington 43 |
| 2000 | Oregon 35 - Texas 30 |
| 1999 | Kansas State 24 - Washington 20 |
| 1998 | Arizona 23 - Nebraska 20 |
| 1997 | Colorado State 35 - Missouri 24 |
| 1996 | Colorado 33 - Washington 21 |
| 1995 | Kansas State 54 - Colorado State 21 |
| 1994 | Michigan 24 - Colorado State 14 |
| 1993 | Ohio State 28 - BYU 21 |
| 1992 | Hawaii 27 - Illinois 17 |
| 1991 | BYU 13 - Iowa 13 |
| 1990 | Texas A&M 65 - BYU 14 |
| 1989 | Penn State 50 - BYU 39 |
| 1988 | Oklahoma State 62 - Wyoming 14 |
| 1987 | Iowa 20 - Wyoming 19 |
| 1986 | Iowa 39 - San Diego State 38 |
| 1985 | Arkansas 18 - Arizona State 17 |
| 1984 | BYU 24 - Michigan 17 |
| 1983 | BYU 21 - Missouri 17 |
| 1982 | Ohio State 47 - BYU 17 |
| 1981 | BYU 38 - Washington State 36 |
| 1980 | BYU 46 - SMU 45 |
| 1979 | Indiana 38 - BYU 37 |
| 1978 | Navy 23 - BYU 16 |