Energy Alliances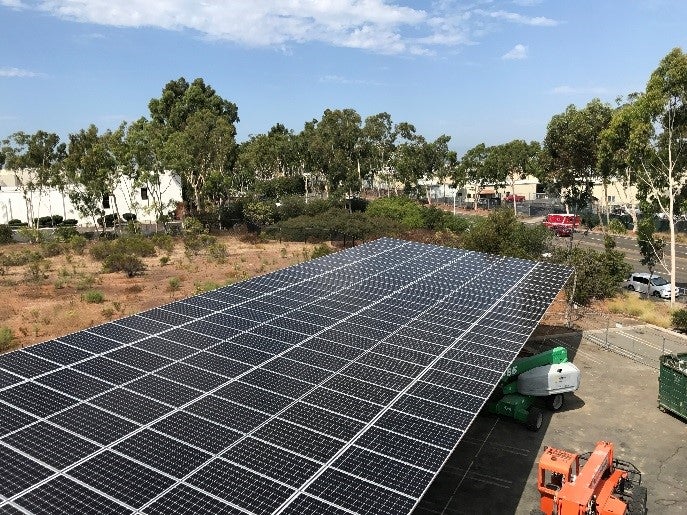 The City of San Diego puts a high priority on partnering with businesses, public and private agencies, and environmental advocacy groups to develop the most creative and comprehensive solutions to our community's energy related issues. Some of the current partnerships include:
Clean Energy Solar Panels Save Taxpayer Dollars
The City has partnered with Onyx Renewables to install solar photovoltaic panels at City facilities. In 2018, the City had 36 municipal facilities fitted with solar photovoltaics to help reach the City's Climate Action Plan goal to become energy independent and serve as a model city in energy conservation through the use of renewable energy.
City Policy Encourages Renewable Technologies, like Solar!
All newly constructed facilities and major renovation projects, regardless of square footage, are encouraged to incorporate self-generation using renewable technologies to reduce environmental impacts associated with fossil fuel energy use. Newly constructed City facilities will generate a minimum of 10 percent of its power from renewable technologies including photovoltaic, wind and fuel cells, with a goal of 20 percent by 2040. See the

2003 Sustainable Building Policy 900-14 for more information.
City Facilities Produce 2.3 Megawatts of Electricity Annually
Solar technology, which converts sunlight into electricity, is environmentally friendly because it requires no fuel and produces no emissions. Photovoltaics have the potential to play a major role in climate change mitigation and pollution reduction.
City of San Diego taxpayers save an estimated $1 million each year in energy costs with the City's two largest solar systems at the Otay Water Treatment Plant and the Alvarado Water Treatment Plant. Here's a list of other solar retrofit and new building installation projects:
More Energy Alliances

The City of San Diego Environmental Services Department and San Diego Gas & Electric both encourage energy conservation as an essential method of managing the current energy supply shortage. In an effort to spread awareness about conservation methods and energy-efficient products, the Environmental Services Department and SDG&E hosted Power PaLooza, an energy fair and fundraiser that benefited Summer Breeze, a fund that provides fans to homebound and medically frail residents.
Sun Microsystems donated twenty "Ultra Thin Client" computers to the City of San Diego's Environmental Services Department to promote environmental education through advanced computer technology. The computers are dedicated to the Environmental Services Education Center for citywide employee training.
The City of San Diego Environmental Services Department and Sony Technology Center-San Diego joined forces to promote the "Green Schools" program. This program teaches students about energy use, air pollution, and global climate change, while helping nonprofit organizations that have been heavily impacted by the current energy-supply shortage. In a pilot project, Rancho Bernardo High School students conducted a lighting audit and coordinated a lighting retrofit at the Sherman Heights Community Center. Sony donated money to help the students purchase energy-efficient lighting fixtures and the services of Amtech Lighting to conduct the lighting retrofit. As a result, the Community Center's monthly electricity bill is expected to drop 35 percent.
The non-profit California Center for Sustainable Energy (CCSE) works with policymakers, government agencies, utilities, businesses and individuals throughout the state and nationally to drive the adoption of clean energy technologies and practices. The CCSE's highly trained energy industry experts in energy efficiency, building performance, clean transportation and advanced energy storage are helping to transform the market in support of sustainable energy goals. The City's Environmental Services Dept. works with CCSE to implement policies and programs to improve the overall energy security and efficiency, while mitigating the environmental impacts of energy use.
The City of San Diego's Environmental Services Dept. and San Diego County formed an alliance on "Summer Breeze: A Fund for Fans." The program partnership, which also includes SDG&E, United Way, the San Diego Police Department, City of San Diego's employee giving program "SHARE," San Diego County, and the County Sheriff's Department was created to help ensure the safety of San Diego's homebound or medically frail residents during times when temperatures may create unsafe living conditions. Fans were purchased by fundraising efforts and then delivered to residents currently served by the Police and Sheriff's Retired Service Volunteer Program (RSVP) during their in-home visits.
LEED for Existing Municipal Buildings: Two Environmental Services Department buildings — the Ridgehaven "Green Building" and the Operations Station administration building — are among more than 50 structures across the United States selected by the U.S. Green Building Council (USGBC) for a pilot green building rating system. A third City building, the Carmel Mountain Library, is also participating. The Environmental Design Existing Building Pilot Program (LEED-EB) seeks to establish national standards for building upgrades and maintenance operations such as cleaning.
LEED for New Municipal Buildings: Beginning in Fiscal Year 2003, all new City facilities and major remodels over 5,000 square feet are evaluated for the LEED "silver" level certification.