Cogeneration
Self Generation of Electricity and Heat at Wastewater Treatment Plants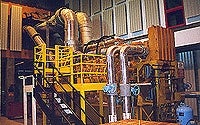 Methane gas, a renewable resource, runs engines that produce electricity while thermal energy generated by electrical power provides heat and cooling for three Public Utilities Department buildings: the Point Loma Wastewater Treatment Plant, the North City Water Reclamation Plant, and the South Bay Water Reclamation Plant.
Independently Powered Community of Tomorrow (IPCOT)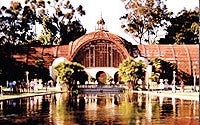 In May of 2002, the City along with the Department of Energy will explore opportunities relating to utilization of landfill gas from the Arizona Landfill to generate power for the facilities in Balboa Park. This proposal will explore several different technologies including cogeneration, micro-turbines, and photovoltaics. This project will serve as a pilot for the first energy independent community and is a giant step toward achieving the City's goal of energy independence through self-reliance.