Speakers Bureau and Tours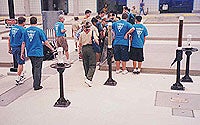 Photo of students touring a facility
Topics
Our extensive Speakers Bureau presents professionals from a variety of our facilities that deliver expertise in areas such as chemistry, biology, civil engineering, project management, and ocean monitoring. They'll share information that highlights our:
Service Area Map
The Metropolitan Sewerage System serves the Greater San Diego population of 2.2 million from 16 cities and districts generating approximately 180 million gallons of wastewater per day. Planned improvements will increase wastewater treatment capacity to serve an estimated population of 2.9 million through the year 2050. Nearly 340 million gallons of wastewater will be generated each day by that year.
History and Background
Treatment of wastewater is a relatively modern practice. It was not until the late 19th century that large cities realized that they had to reduce the amount of pollutants they were discharging into the environment. In 1885, the City began its first municipal sewer service, which was only along the lower portion of Fifth and Sixth avenues in downtown with the raw effluent discharged directly into San Diego Bay. As the City grew, raw sewage was not only discharged into the bay, but also directly into the Pacific Ocean through 22 sewage outfalls.
Glossary of Wastewater-Related Terms
Advanced Primary Treatment - During wastewater treatment at the Point Loma Wastewater Treatment Plant, ferric chloride and organic polymers are added to the sedimentation tanks to help waste particles bond together in large enough masses to settle out.
Biosolids - Nutrient-rich, organic material generated from household waste, removed during the treatment process. Once digested and dewatered, the material, called Biosolids, can be beneficially recycled.