Design Guidelines and Standards
To report difficulty accessing these documents or to request the documents in an alternate format, contact the Capital Improvement Program at (619) 533-4679.
Water System Improvement Projects
Below is a list of City of San Diego water system improvement projects funded by the 2007-10 water rate increases. The City's Capital Improvements Program is administered by the Public Works Department. For more details, see our Contact Information page.
Water and Sewer Capital Improvement Projects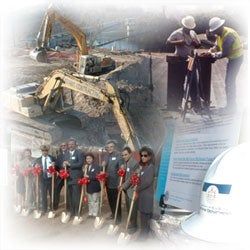 In the early 2000s, the City of San Diego was hit with a rash of water main breaks. This was due in large part because the City's aging water infrastructure was in need of replacement, repair and upgrades. Some pipelines had been in operation for a hundred years.
Contact Information
For more information on water related Capital Improvement Projects, please call (619) 533-4207 or email: [email protected].
For information on engineering related projects, visit our Wastewater web site or the Public Works Department web site.
Background
Introduction
The City of San Diego is located on southern California's semi-arid coastal plain. San Diego's pleasant climate attracts large numbers of potential residents, businesses, and tourists every year. Known as America's Finest City, San Diego is one of the 10 largest cities in the USA and the second largest city in California, with a population of approximately 1.3 million.
Achievements
The Water Department's capital program was initiated in July 1998. Since that time the department has strived to replace 10-12 miles of cast iron water distribution mains every year. In addition to the water main replacement program, water infrastructure improvements have also taken place throughout the City.
Below are the major CIP projects completed from 2002 - 2007: